Part 1 of this article series covered the rise of UFC legend Jon Jones, a light heavyweight figure marked by great victory – and equally great controversy. In part 2, we take a look at how Jones's career fell apart after he was stripped of his light heavyweight champion title on April 28, 2015.
Prior to this fateful event, Jones was set to defend the UFC Light Heavyweight title against Anthony Johnson in May 2015, at UFC 187. However, after the April 26 hit-and-run incident, Jones was stripped of his title, removed from the UFC rankings, and suspended indefinitely. The official statement from the UFC was that Jones violated the Athlete Code of Conduct Policy. Meanwhile, Daniel Cormier, whom Jones defeated in January 2015, defeated Johnson and became the new UFC Light Heavyweight Champion.
Jones returned to the UFC in October 2015, and his next fight was set to be a rematch against Cormier to take back the title. He ended up fighting Ovince Saint Preux, as Cormier had suffered a foot injury and was forced to pull out. Jones defeated Saint Preux and took the interim Light Heavyweight title.
A fight with Cormier was finally set to take place on July 9, 2016, only for the next snag to hit Jones's career. A June 16 urine sample, taken out-of-competition from Jones by the US Anti-Doping Agency, tested positive for clomiphene and letrozole, which are among the official list of banned substances.
Jones was removed from the bout on July 6, and in November 2016, he was retroactively suspended for a year, beginning from the date of his removal from the bout. He was additionally stripped of his interim title, making him the first UFC fighter to be stripped of a title twice.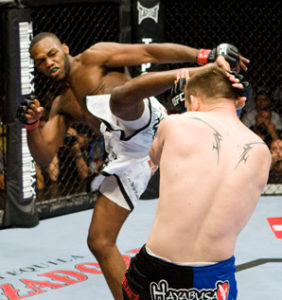 After serving his one-year suspension, Jones made his triumphant return at UFC 214 on July 29, 2017, defeating Daniel Cormier to take back the UFC Light Heavyweight belt with an amazing round 3 KO. It was the best possible comeback he could hope for – only for yet another controversy to mar his career.
Just two weeks ago on August 22, USADA flagged Jones yet again for a possible doping violation, this time of the steroid Turinabol. Jones's camp is attributing the positive test to a tainted supplement. He is currently serving a provisional suspension and will be investigated and judged by the USADA, as was the case previously. Whatever the results are, the last two years of his career have hardly been the work of a champion, and his legacy has been called into question. Is it the end of his reign? Only time will tell.
What do you think of Jon Jones as a fighter? Should his past success be affected by these allegations?