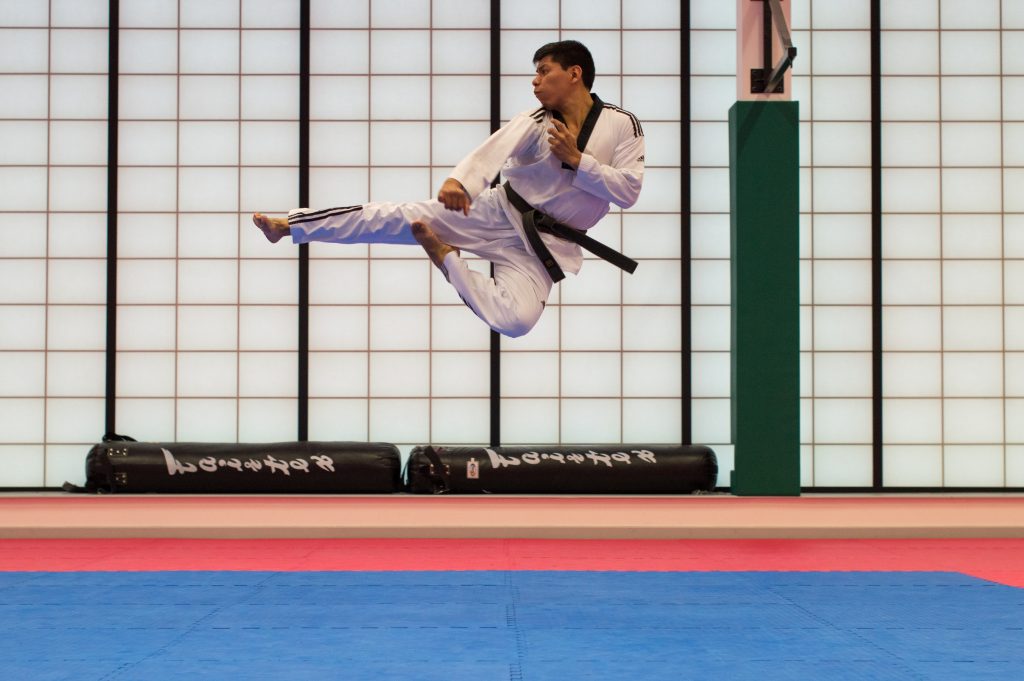 Few things are more exciting in action films than seeing our hero flying through the air to land a karate kick in his enemy's chest. But with kung fu and karate featuring in many movies over the years, have you stopped to wonder how authentic it is?
In this guide, we'll take a look at whether the karate we see on the silver screen is true to life. We'll also look at some examples of karate in movies, exploring the best to the worst. Along the way, we'll touch on different forms of karate, such as UFC and MMA, and we'll link you to how to check out the likes of MMA odds
on sportsbook sites.
But first, let's take a look at how karate as a sport works.
How does karate work?
Karate originates from East Asia over a period of centuries, becoming systematized in Okinawa in the 17th century, probably by people forbidden to carry weapons. At its core, karate is a combat sport devoted to striking opponents. The aim is to defeat the other fighter with punches, kicks, knee strikes, open-hand blows, spear-hand strikes, and even elbow strikes.
There are a number of different styles of karate and some of them integrate grappling moves that you'd typically see in the likes of judo. Examples include throws, chokeholds, pinning techniques, and joint locks.
Those who train hard and follow the disciplines of the sport can acquire different colored belts, which signify their level of mastery. Everyone begins with a white belt and strives to reach the black belt level.
With hard work and focus, it's estimated that a beginner could attain a black belt in around five years.
Is karate in movies accurate?
Fights of any nature tend to be fast-paced, tense, and chaotic affairs. Usually, the more people involved, the more chaotic the scene.
Over the years, TV shows and movies have tried their best to develop the way in which fight scenes are portrayed, and karate films are no exception. In the early days of kung fu, starring icons of film such as Chuck Norris, fight scenes were almost comical.
But times have changed, with devotees to the sport like Bruce Lee and Jackie Chan leading the charge for more realistic fight scenes. But many scenes continue to depict an individual or perhaps a handful of people karate-chopping their way through what feels like hundreds of enemies.
Some experts and practitioners of martial arts and karate have commented that the scenes in films like Crouching Tiger, Hidden Dragon are not realistic. Instead, they describe them as choreographed routines, a dance, almost, essentially focusing on artful entertainment rather than imitating real fights, which are hectic and messy by nature.
For example, punching someone with a bare knuckle is going to inflict pain on the puncher as well as the unfortunate victim. In some karate fight scenes, we see someone throwing scores of punches with little heed given to the state of their knuckles and fingers, which would likely break or at least be injured.
Another complaint is that martial arts and karate scenes in movies tend to be quite over-the-top and flashy. Contrasted with reality, masters of the sport will most times display an economy of action. They know that it saves time and energy to knock someone out with their first punch or movement, rather than doing something of a dance first.
It's also often portrayed in movies and TV shows that karate masters have eyes in the back of their heads. This prevents them from ever taking a blow, or so it seems. The reality, according to karate masters, is that everyone has a blind spot. If someone attacks from that position, it's highly likely they'll land a blow.
And lastly, another complaint is about the hero taking on five people at once. Realistically, they'd get overwhelmed and beaten up pretty quickly.
However, the other side of the argument is that it's these embellishments that make watching karate in movies and on TV so enjoyable. We want to see our hero taking on six people at once. We want to see them showing off their flashy moves. It's what draws us to karate films and is no doubt the reason why they're so popular.
Despite that, however, some people may be keen for a more genuine experience. And if so, you can find some examples of films that are said to have more realistic karate fight scenes, in the form of Flashpoint, SPL Killzone, and Redbelt.