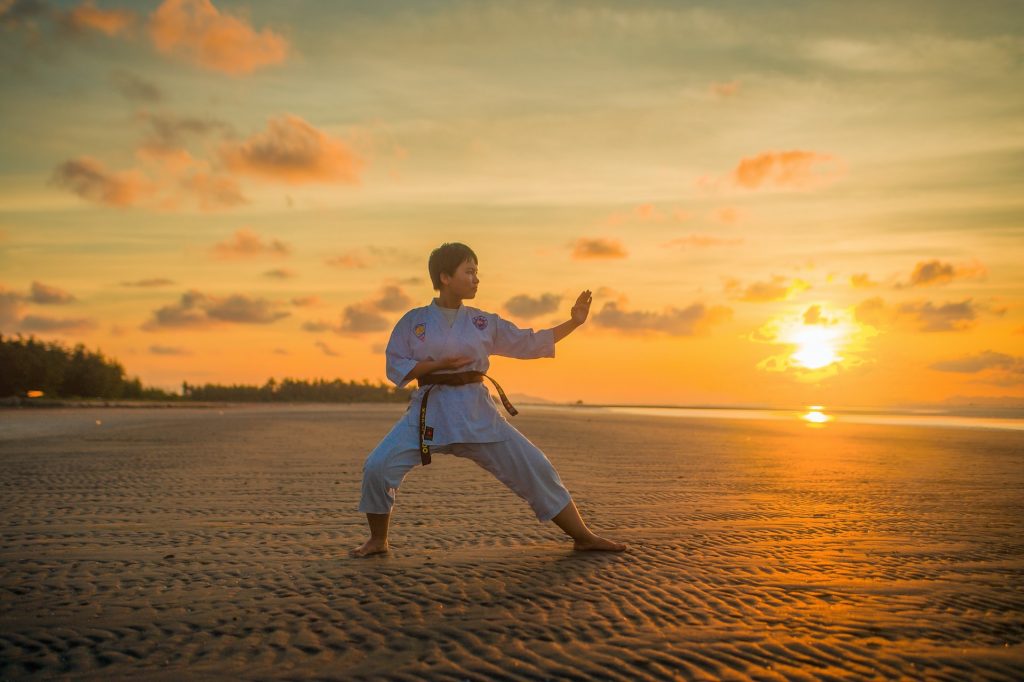 If you're looking to get in shape, one of the best forms of exercise you can do is martial arts. It carries the benefit of strengthening every aspect of your body, as well as teaching you psychological discipline.
But knowing which martial art form is best to try can be tricky. In this guide, we'll answer that very question. We'll look at what martial arts are, before looking at some examples, such as the UFC, how you can find the latest UFC odds
, and learn about making bets with sportsbooks.
We'll also look at some of the best martial art forms for beginners, such as boxing, karate, and kickboxing.
About martial arts
Martial arts is the umbrella term for a number of specific combat sports. Many of these sports are centered around self-defense. They promote physical, mental, and in some cases, spiritual development.
Some forms of martial arts, such as karate, are particularly important to the cultural heritage of many people around the world.
The term martial arts doesn't just encapsulate unarmed combat sports, but armed ones too, such as swordsmanship and stick fighting, particularly in East Asia. In some disciplines of combat sports, the use of weapons is fundamental. Some forms of martial arts go a step further and devote themselves to a single weapon, such as the katana and the samurais of Japan.
Unarmed forms of martial arts tend to focus on either striking an opponent (such as punching and kicking), grappling (such as throwing, submission holds, and pinning techniques), or a mix of both.
Let's take a look at which martial art forms are best for beginners.
The best martial art form to try as a beginner
There's a wide range of martial art forms that are ideal for beginners. These sports have been selected because of their accessibility and how easy they are to learn and understand.
Boxing
Boxing is one of the oldest sports in the world, with its origins stretching all the way back to Ancient Greece.
It's changed since then, but the premise remains the same – punching your opponent in the torso or face to either knock them out, force them to concede or win on points.
Boxing looks intimidating, especially when watching the professionals battle it out. It's often categorized by comparison to soccer – you do not "play" a boxing match as you would play in a soccer match; you fight.
If you're new to the sport, it's important to remember that you can practice without fighting. Sparring or fighting with other people is purely optional. This is a positive note because boxing training is a terrific way to get fit. It incorporates endurance, strength and conditioning, technique, and mental discipline.
It also doesn't require much by way of equipment – simply a sports kit and if you prefer, a pair of boxing gloves and wraps. However, many local boxing gyms will loan these to you.
Kickboxing
Kickboxing is a hybrid combat sport with origins reaching back as far as prehistoric times, according to some historians. It is purely strike-focused, with fighters able to punch (while wearing boxing gloves) and kicks (barefooted, save for foot wraps).
Again, like boxing, this is an ideal sport for beginners.
Karate
Karate is one of the oldest forms of martial arts and originates from China. It is considered a striking art, with punches, kicks, knee strikes, elbow strikes, open-hand blows, and spear-hand strikes.
As well as striking, some forms of karate also incorporate grappling, throws, and joint locks.
It is a formidable sport, one that can be tough to master but enjoyable to take part in, with basic moves that are easy to understand. Like most things, it's all about practice and that's what karate requires.
Judo
Unlike the other sports covered above, judo is a grappling sport that focuses on throwing and pinning your opponent. The aim of the game is to cleanly throw, pin, or master the opponents forcing them to concede with a chokehold or joint lock.
Its origins hail from Japan and some describe it as the Japanese form of wrestling.
Unlike other forms of martial arts with similar origins, judo places no emphasis on using weapons.
Judo is ideal for someone looking to learn more about grappling and wrestling martial art forms. It's widely taught from school age up to adults, and it requires no equipment save for a judogi, which is the traditional Japanese uniform.