10 Hype Trains that got Derailed
As with any field, some things get way too much hype. Most of the time, the hype is completely justified, as something or someone can definitely look promising in the beginning, and maybe they will live up to the hype. Sometimes the hype isn't warranted at all, and we all find out why soon enough.
It's no different in mixed martial arts, with promotion truly the name of the game! Drawing as much attention as possible is the only way to turn a profit, after all. Here are a few who came in really loud but fizzled with a whimper.

Brett Rogers – Rogers from Strikeforce actually deserved his hype, going on a hot, dominant streak early in his MMA career. However, a bout against Fedor Emelianenko left him knocked out, and he could not recover after that.
Thiago Silva – Starting out 13-0 for three years, Silva looked to be the next huge Brazilian star. However, Lyoto Machida would knock him out in a battle of undefeated streaks. After that, his career suffered drug test failures and disappointing losses.
Erick Silva – Silva started 12-1 outside the UFC, but got into the company, and eventually suffered a crushing decision loss to John Hendricks, which he could not emotionally recover from.
Hector Lombard – A powerhouse from Bellator, Lombard's case is slightly different as he managed to earn a spot in UFC, winning his debut but in a not very entertaining fashion. He would recover, but you only get one chance to make a first impression, and he could not reclaim his glory from outside the UFC.
Brandon Thatch – Thatch would go on a hot streak that would earn him a good spot in the UFC, but a last-minute match against former welterweight Benson Henderson was too much for him to handle. He would lose his shine and end up getting released by the UFC at the end of 2016 and hasn't fought since.
Todd Duffee – Seven months after sustaining a back injury in UFC 107, this heavyweight prodigy was matched up against Mike Russow, who put Duffee down in a spectacular comeback during round 3.
Sage Northcutt – Handpicked into the UFC by Dana White, quick losses due to some bad booking decisions lost him a lot of his luster.
Houston Alexander – Coming off an explosive UFC debut against Keith Jardine, his hype train was stopped by another person on this list, Thiago Silva, and he could not recover at all.
Brandon Vera – After stating his intention to become be the first heavyweight and light heavyweight champion in the UFC, the Filipino fighter was stopped by Tim Sylvia after he couldn't manage the disadvantages. His career never recovered.
Uriah Hall – Hyped as the next big UFC star coming off the Ultimate Fighter, Hall just couldn't connect consistently despite having a solid early career.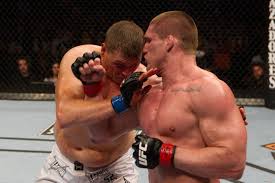 Have other overhyped warriors popped up in the UFC? Did they ever go on to regain their pride?