If you've ever encountered a Buddhist monk—or a Shaolin monk, even, as they might practice Buddhism—you may have noticed that they have dots etched on their foreheads. It turns out that, like many things, they are part of an ancient Buddhist tradition.
They are the results of a ritual under the Chinese Foguangshan monastic ordination that Buddhist monks under their order must undergo. First, the monks have their heads shaven, in order for them to renounce their worldly appearances. The dots are actually circular burn marks left by placing three pieces of burning incense on the monk-to-be's head. The three dots represent three different sets of beliefs, all symbolized by the same markings.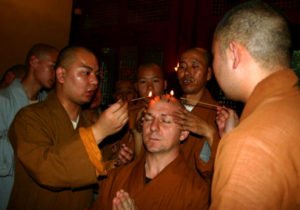 First, the three dots represent the Triratna, or the Triple Gems of Buddhism, which is the Buddha, the Dharma, and the Sangha. The Buddha, of course, is the founder of the Buddhist religion. The Dharma is the Buddha's teachings, and the tenets by which Buddhists must practice and live. The Sangha is the community of Buddhist disciples, both ordained and laymen. These three devotions are central to each Buddhist's faith.
The dots also represent the three vows a Buddhist must take—that of ridding themselves of bad habits and bad thoughts, that of cultivating good thoughts in one's mind and soul, and that of accumulating wisdom in order to help alleviate the suffering of others.
In addition to those things, the three dots also represent the three trainings of a Buddhist. Buddhists train themselves in morality and discipline, concentration, and wisdom in order to be more pure, awakened, and enlightened.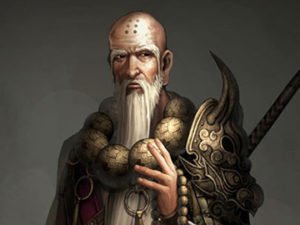 The markings on a Buddhist monk's forehead are but one of many things that they go through in order to distinguish themselves as they go on a journey to become more enlightened. The next time you see a monk, you can now tell him or her that you know what their dotted marks mean.
Have you ever met a monk? What do you think of the ascetic lifestyle?