Police are investigating a man after he was caught on CCTV headbutting another man in a boxing ring at the Toe2Toe fitness gym in Holywell, North Wales.
The two men were clearly having a heated argument while standing in a boxing ring, before the suspect strikes the victim with a headbutt, causing the victim to fall to the floor.
The attacker then punched the man while he was down repeatedly until a woman tried to come in between the two to separate them.
The victim finally saggers to his feet, blood dripping from his mouth. He threw no punches and only tried to defend himself in the attack.
After a short investigation, police identified the attacker as Muay Thai instructor Matthew Inskip, who told authorities that the footage looked bad but was in response to a tirade of threats from the victim beforehand.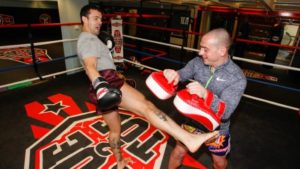 He said that the victim was also goading him which angered him resulting in the outbreak. Inskip also claims to have other CCTV footage of the victim 'kicking off on customers' and that he had been asked to leave on several occasions.
The two men have now apologised to each other and resolved their differences. However, the police are still investigation the incident and considering whether to open a formal charge against Inskip or not.
Check out Daily Post's video.
https://www.dailypost.co.uk/news/north-wales-news/cctv-captures-moment-martial-arts-14488034