The holiday season is fast approaching, so we all better start dropping subtle hints as to what we would like. We are not fans of overcrowded shopping malls full of screaming children and assume that you aren't either. 
For specifically Martial Arts Christmas Gifts, we have found 3 fantastic online stores that will fulfill all your needs. Highlighted below is just one item from each store that we like, but there is plenty more to be found in their main stores.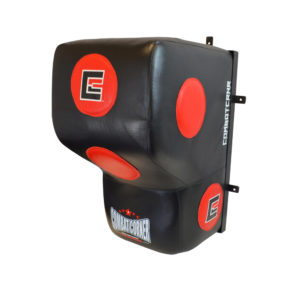 This heavy-duty purpose built Wall Mount Uppercut & Hook Bag is great for practicing hooks, uppercuts, straight punches, combinations, angle punching, and more. You name it, this bag can take the punch while using the least floor space possible. Check it out
here!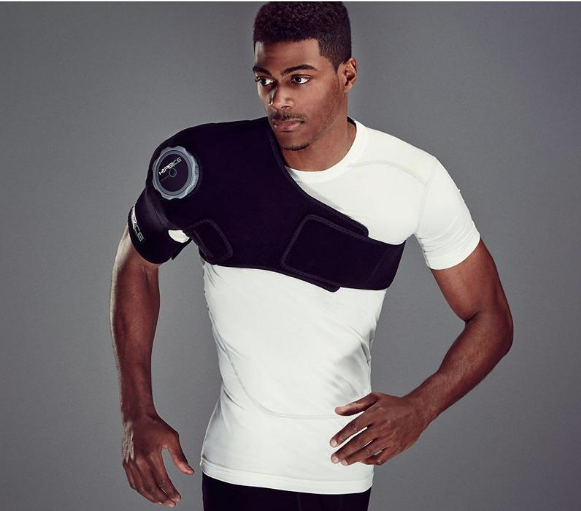 If your sport includes pushing, pulling, throwing, swinging or striking, you simply can't go without the Hyperice® Shoulder – Right Ice Compression. Get targeted cold therapy designed specifically for rotator cuff tendonitis/tears, AC joint pain, strained tendons, bursitis, and overuse of the shoulder, all delivered in a sleek, compact and ultra comfortable way.
FEATURES & BENEFITS:
2-part system that provides optimal cold therapy for rotator cuff tendonitis/tears, AC joint pain, strained tendons, bursitis, shoulder impingements and overuse of the shoulder
Wide cap opening allows for easy filling of water
Air release valve removes ice from the cell for optimal compression
Ergonomically designed wrap contours to the body for maximum comfort and mobility during treatment
Includes large 8″ x 8″ ice cell and shoulder compression wrap
3mm dual-layered plush neoprene with Lycra® spandex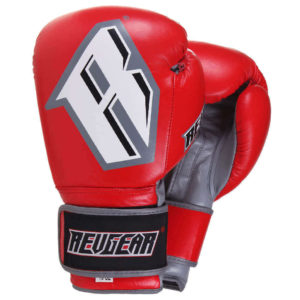 One of the best boxing gloves on the market today. With the soft, broken-in feel, high-impact padding and ultimate wrist protection, the S3 has gained fame with pro fighters and amateurs alike for their comfort, durability, and overall feel. It includes high-tech multi-layered gel-infused foam interior, giving it one of the most comfortable hand slim-fit compartments in the industry.
Stylish, premium, full cowhide leather glove perfectly blends the best elements of classic boxing glove design with modern innovations, solid wrist support and a perfect thumb position, making it a superior choice for Boxing, Kickboxing or MMA.
Trusted by pro boxers and martial artists worldwide, these top-end gloves are ideal for both sparring and bag work, satisfying heavy hitters and beginners alike.
Wear them once and you'll be hooked!
SOFTech™ Leather gives worn-in feel
ANTI-SHOCK Rev-Tech Gel™
RAM-Force™ Technology Padding
3″ Elastic and SOFTech™ Leather combo making wrist wrap tight and secure
Palm opening for increased ventilation}
Available in Black/Red, White/Black, White/Pink,, and other limited edition colors
Shop Revgear With Confidence
Whether you're seeking the best gloves for boxing or Muay Thai, you can always depend on Revgear for professional gear that gets the job done right. Browse our wide selection of other glove styles, including our Original Leather Boxing Gloves, Thai Style Boxing Gloves, and Elite Leather Boxing Gloves.
Check out these red beauties here!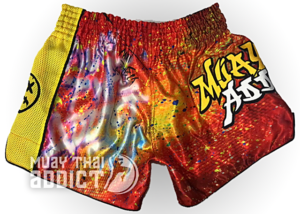 Kicking off the Fall Collection 2018 with the King Assassin Muay Thai shorts! This line will consist of graffiti, urban and camo designs.
This King Assassin graffiti designs has a sublimated base, mesh side panel, direct embroidery King Assassin logo on the mesh panel, and Muay Thai Addict sign as a patch on the wearer's right side. The sublimated design will never fade or wash out.
Retro fit with V cuts on the sides and a loose fitting waist band. 100% satin material body. Yellow side mesh panel and an array of sublimated colors including blue, pink, purple and white.
Check them out here!
If you could have any item under the tree this year, what would it be?