If you want to learn Muay Thai, there is no better place in the world than Thailand. Whether you are in the big city of Bangkok, on a beach in the south, or surrounded my mountains in the north – the country has it all. These are our five top picks for the most unique Muay Thai gyms in Thailand, perfect for any Muay Thai pilgrim looking to learn from the Thai masters themselves.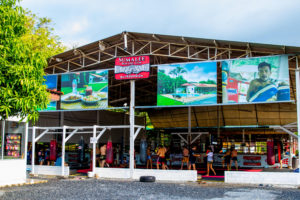 Sumalee Boxing Gym
Sumalee Boxing Gym is an exclusive Muay Thai gym that caters to people who recognise the need to supplement excellent Muay Thai training with bespoke nutritional plans and mindfulness through yoga. Located in the island city of Phuket, this beach resort city is the perfect place to get training. This gym is so famous in Thailand, it has become known as Phuket's premier destination for training in Muay Thai and all round mind and body restoration. They combine yoga and other mindfulness training programmes with the traditional Muay Thai training to create incredible warriors who know more than just how to throw an elbow strike. They even have fighter sponsorship program open to Thais and overseas students alike.
Moo 3, Hua Tha, Sri Sunthon Road, Phuket, Thailand
(+66) 088 017 3018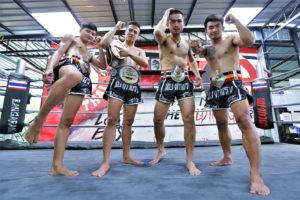 Gym Bangarang
Gym Bangarang is all about the boot camps and bespoke, boutique training programmes located in the foothills of Chiang Mai's mountains. Their philosophy is based on creating realistic, individual goals for each person, going beyond your regular Muay Thai gym experience. Their English speaking trainers have  wealth of knowledge which gives you guys access to top-notch instruction, high energy workouts and positive, enthusiastic reinforcement when training.In addition to Muay Thai training, they also offer bespoke fitness bootcamps, weight loss holidays, strength and conditioning training, HIIT training, TRX and much more. This is the gym to go to if you need to get away from the city and focus on your training alone – they even have rooms right next to the gym where you can stay, meaning you are never too far away from the punch bags.
22/2 Moo 1, Rimnuea Mae Rim, Chiang Mai, Thailand
(+66) 083 564 5383
Whatsapp: +852 6110 7428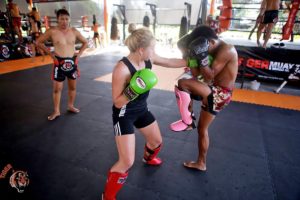 Tiger Gym
Another island based gym, Tiger Gym is located in the Chalong area of Phuket and is home to some of the best Muay Thai trainers in all of Thailand. Tiger Gym is the world's biggest and most recognised Muay Thai, MMA and Fitness Training destination gym. The main gym focuses on the training and development of Muay Thai practitioners, from absolute beginner to professional. The camp itself is a training ground for the world's most dominant athletes, featured on numerous documentaries, travel shows and media outlets and is one of Thailand's premier destinations for martial arts training in Thailand. There are no limits as to what you can achieve at TMT. Whether you are a seasoned professional athlete looking for that extra edge or whether you are a beginner with no idea where to start, Tiger will take care of you.
7/35 Moo 5, Soi Ta-iad, Ao Chalong, Phuket, Thailand
(+66) 076 367 071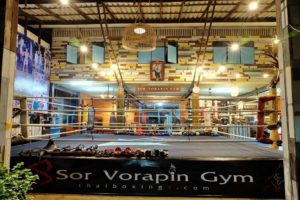 Sor Vorapin Gym
Tucked down a small soi near Khao San Road, this homely gym is just the ticket if you are looking for a great Bangkok city holiday but with a quiet local Muay Thai experience. The spirit here is authentic and the trainers are dedicated to their job. Many who pass through its doors are the backpacking type, but that's not to say you can't go if your not a backpacker. Hell, maybe you hate backpackers so this would be the perfect place to go to kick the living crap out of them…in the ring of course. They offer both day, week and month long courses, and if you want to go super intensive they also have training camp located on the opposite side of the city's main river in Thonburi.
13 Trok Kasap, Jakapong Road, Bangkok, Thailand
Facebook: www.facebook.com/sorvorapinmuaythaigym.gym/
(+66) 081 625 9651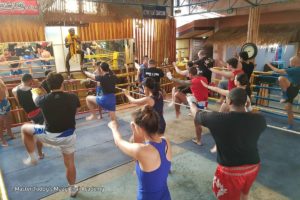 Master Toddy's Muay Thai Academy
No this guy is not named after a hot alcoholic milky drink from Scotland, but you may need one after the training he'll put you through. Run by the famous grandmaster Thohsaphon 'Toddy' Sitiwatjana, this academy stands out as one of the best in Bangkok. Labelled 'the Father of Muay Thai' in England where he spent many years training and teaching, Toddy is a legend among the international MMA community. There are two Muay Thai classes per day, and the academy also teaches other martial arts such as Muay Boran, Krabi Krabong, western boxing, women's self-defense and MMA. Toddy trained legends such as Randy Couture, Bob Sapp and Tito Ortiz, so why not join that list and be taught by the best?
55/103 Sukhumvit 107, Soi 22, Bearing, Bangkok, Thailand
Facebook: www.facebook.com/MasterToddys/
(+66) 027 433 372
And during your travel, visit TopCitySpots.com to find all the top local businesses at your destination.