Pepper spray is well known for being great in a tight spot. It has many uses, from defending against a sexual attack to blinding your opponent so you can get a free punch or two in. It came into popularity in the mid 1990s and has been a handbag accessory ever since, but we want to go over the pros and cons so you are aware of the benefits, but also the dangers of carrying such a potent capsule of chemicals around with you all day!
Just a disclaimer first, as we are huge fans of martial arts and self-defense, be aware that physical fighting skills will ALWAYS enhance your fighting and defense abilities, and you should not rely on a can of pepper spray (or Mace) alone. Also, please check with your local authorities regarding the laws that surround pepper spray, as in some states and countries, it is classified as an illegal or restricted "weapon".
Each type of pepper spray has a shelf life, mostly due to pressure leakage over time. Canisters should be shaken regularly to maintain the chemical mixture, and it should not be exposed to extreme temperatures like being left in the snow, or in a car on a hot day. Spray canisters also vary in distance, some require you to be reasonably close to the person – around four feet – while others can shoot it as far as 15 feet, but on the whole, 10 feet is a good average to go by.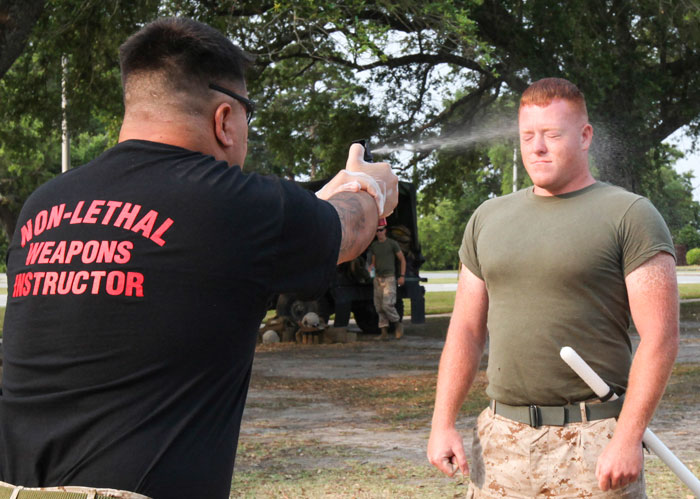 Pros
Pepper spray is great for a few reasons. It can instantly turn the tables on a fight or an attack, putting the perpetrator at a serious disadvantage. The active chemicals in a pepper spray canister work to irritate the eyes, respiratory system and the skin. Those contaminated will experience the constriction of the trachea and many cause a feeling of panic, resulting in coughing. Sometimes they may shout "I can't breathe," but rest assured most of the time they will be fine. Due to this feeling however, they often lose strength and coordination, giving you ample time to escape or fight back.
When someone is sprayed with pepper spray, almost all of the time they will involuntarily close their eyes as the body does all it can to protect itself from the harmful chemicals. Eyes blur with tears as the body tries to wash away the chemicals and it can even cause swelling.
Pepper spray should be seen as a diversionary tool rather than a weapon. In reality, the chemicals will give you a moment to think, fight back or escape, but in the end the one attacking you will overcome the pain and focus on you once again. Ideally, by that point you are long gone and they are left floundering and crying for the next 45 minutes.
Cons
The first, glaringly obvious con with pepper spray is that it can really backfire and leave you just as incapacitated as your attacker. As it sprays out into the air, it is logical to assume that if the wind is blowing in your direction, a fair amount of the chemical will blow back towards you, straight into your face. This could obviously leave you just as affected as your attacker, if not more on occasion, so being aware of the wind and the weather around you is also a very important thing.
A direct spray to the face of an attacker may seem a great idea, and on the whole it does help give you time to escape, but there have been reports that on several occasions, the spray has only enraged and given more power to the attacker who goes all Hulk and crazy trying to fight off the pain and becoming even more determined to harm you as a result.
Also, something to be aware of too is if your attacker somehow gets hold of the pepper spray themselves. If you grab for it but drop it, you could be putting yourself in more danger, or if you use it, drop it, but there is some left then maybe they can use it against you later on in the fight.
Either way, pepper spray is good in some situations, and terrible in others. It can be hard to take all the factors into account in the moment, but try to be aware of what you are getting yourself into when that spray canister lid is popped open. If you are affected by pepper spray, the best way to cure the symptoms and get rid of the chemicals is to stand somewhere with fresh air, some wind, and wash your face, eyes, nose, ears, and skin with fresh clean water. Some even suggest that baby shampoo is good for decontamination, but you should check the instructions provided with the pepper spray for the best treatment suggestions. Most effects should dissipate within 20 to 45 minutes depending on the level of exposure and the potency of the chemicals. Do not use ice or creams to cool the skin as they hold onto the chemicals and prevent them from leaving your skin, prolonging the pain.
Have you or someone you know ever been sprayed with pepper spray or used it yourself?