Japanese swords are some of the most venerated weapons in history, and this is very clear both in fiction and in the amazing martial arts that are associated with their use. They're famous for their awesome cutting power; however, they're not magically invulnerable weapons, and can be easily damaged if not used or cared for properly.
Respect for your weapon is where you should start, long before venturing forth on a martial arts journey. Here are some tips for taking care of your Japanese sword.
If it isn't being used, the sword should always be kept inside a sword bag horizontally.
This is to prevent the blade from coming loose or falling out of the scabbard.
Store your sword in a dry environment, to prevent rusting.
Rust prevention is far more effective and desirable than rust removal. You should also use Choji oil, sold by most sword supply shops, which will help prevent rust.
The sword has a polished section which is very fragile.
Never touch this polished portion because the sweat of your fingers can leave fingerprints on the blade's surface.
Never attempt to sharpen your own blade.
Sharpening a sword requires training, and even advanced users often don't have the expertise that will allow them to perform it themselves. You risk totally dulling or destroying your blade if you attempt to use something like a grinder or a sharpening stone.
If you care for your weapon, it will last you years, performing just as good as new throughout its entire lifespan.
There's a variety of Japanese martial arts revolving around their legendary swords. Some of the more popular ones include kendo and iaido, which respectively mean "the way of the sword" and "the path to harmonious being." Kendo focuses on practicing and sparring with a drawn sword. Iaido on the other hand focuses more on drawing one's sword, with all katas, or forms, starting and ending with a sheathed sword.
We caught up with iaido Master Lok Wai Keung, founder of the Toyama Ryu Iaido Association in Hong Kong. Master Lok has been practicing for over 20 years, teaching for some 18 of those, and has won several competitions in his art.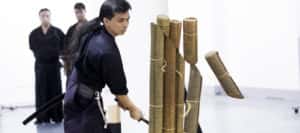 In most comics, all the samurais are on a mission to kill, what are your thoughts about this and is this true in the past?
In ancient periods of Japan, Samurais were a class of civilians as well as a kind of soldier. They are loyal to their master or general and respond by protecting them at all costs. The saying "Absolute obey" become their code of conduct.
How about the present? Tell us more about the changes?
The Samurai's class have been abolished in Meiji period. Nowadays, Bushido became how the men should behave according to an absolute moral standard, one that transcends logic. What's right is right and what's wrong is wrong. The difference between good and bad and between right and wrong are givens, not arguments subject to discussion or justification and a man should know the difference.
What is Bushido?
It's a book by author Nitobe Inazo who interprets the Samurai code of behavior: how chivalrous men should act in their personal and professional lives. Bushido is the emphasis on compassion, benevolence, and the other non-martial qualities of true manliness which are:
Rectitude or Justice

Courage

Benevolence or Mercy

Politeness

Honesty and Sincerity

Honor

Loyalty

Character and Self-Control
Some people are very fascinated in Samurai and swords, it gives the impression of it being very cool and badass and also a little bit evil. From your experience, why did your students start to learn laido?
In Hong Kong, most of the younger generation are deeply influenced by the Japanese comic and cartoon TV/Film shows about Samurai, Ninjas and the fighting power of a Japanese sword. That is the reason why they come to learn laido and we have to give them the right concept of laido and the real traditional culture of a Samurai. On the other hand, some people will link Japanese swords with the Japanese army's criminal acts in World War 2. In fact Japanese swords have been banned by the Meiji government and rebranded as the propaganda tools in Showa period for strengthen up the nationalism. That is why understanding the history of Japanese sword is one of the key topics in our laido class.
Master Lok indicates that there is something of a disconnect between the way many people view Japanese swordsmanship, and its actual roots in history and culture. When you begin studying these arts, make sure that you're doing it for the right reasons. Respect your art and your weapon, not as some mystical spiritual skill or weapon that you wield to look cool. When you learn this, as with any art, you must become invested in all aspects of it, not just the practice and the skill involved, but in the discipline, character, and self-control that these arts will teach.
These are what you must learn before you take up the sword. When you finally decide on your art and acquire your sword, a long journey of training awaits, yet few are as fulfilling as this.
Mr. Lok – Master in Iaido
Toyama Ryu Iaido 4th Dan
Founder of Toyama Ryu Iaido Association