In the world of martial arts, mixed gender competitive fighting is yet to become a true reality. Apart from the odd fundraiser or point making exercise, the only time men and women are seen in the same ring is during some off the wall episode of Wrestlemania. Sadly, women are often subjugated to the side of the ring, wearing a bikini with a sign that reads 'round three' – but with our society ever changing, we expect to see more mixed gender martial arts to come into being.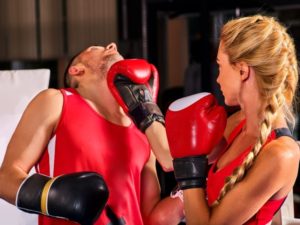 So for men, that raises the question. Do we go easy, and follow the stereotype that women are weaker than men, or do we fight fair and go hard just as we would with any other fighter? We are not claiming to have the answer, but we do have some insights that may help you make your own decision.
For many men, fighting a woman is an uncomfortable experience. Not because we fear being beaten or that we don't want to hurt them (because in reality we don't want to hurt anyone we spar against really) but because we have grown up in a society that teaches you not to hit women. The whole process can be somewhat alien and psychologically, men do tend to reduce their attacking strength without even realising it.
The world of MMA and Boxing have strict height and weight rules, that pit similar sized men against each other in the ring. In the gym however, these rules are often put to the sidelines in exchange for convenience and sometimes that means big men get paired with short men, and women get paired with men.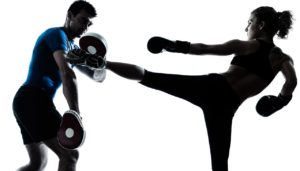 In reality, fighting a woman who is the same height and the same apparent size as you is a lot less uncomfortable than fighting a five foot four featherweight.
A female fighter shared her opinions on the matter in a recent blog post  She says that one of her favorite sparring partner is six foot three, 230 pounds and on totally opposite sides of the spectrum when it comes to weight and power. However, she explains that once men get past looking at her breasts (a super common issue apparently, and we can't say we're surprised) they need to understand that sparring is not about a fight for the finish, but it is about training.
Another benefit from fighting men for women is that in real life situations, almost every attacker is going to be male, meaning she is far better prepared in handling with men that can be bigger than her (or sometimes spaller, and then they get an ass whooping).
As the debate rages on about whether men and women should fight each other in a ring, gyms around the globe are putting men and women against each other on a daily basis. Once both sides overcome their fears and misconceptions, a happy middle ground will appear and in reality, women are just as capable and strong as men. But as is the rule when it comes to fighting, it only works as a competitive sport when the two fighters who are in the ring are of similar size and strength – the gender should be arbitrary at this point, but we still have some way to go.