How far would you be willing to go to show how big a fan you are of your favorite star? For 7-year-old Ryusei Imai, he aims to be just like his idol Bruce Lee by copying the latter's greatest martial arts feats and capturing them on video.
His YouTube channel, Bruce Ryu, has accumulated millions of views and tens of thousands of subscribers since it went viral in 2015. Some of the most popular videos he's made include his re-enactment of Bruce Lee's famous nunchaku scene from Game of Death, complete with a little yellow tracksuit, as well as a video of him performing amazing martial arts kicks and other moves. Aside from his online exploits, he has also wowed audiences with his appearance on the inaugural episode of American children's talent show Little Big Shots, hosted by Steve Harvey.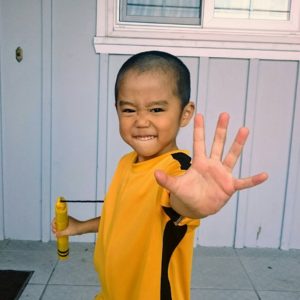 He recently got his own Instagram account, which quickly accrued over 30,000 followers, and the photos show his impressive physique, complete with rippling abs and powerful biceps; he'd be the envy of much older martial artists!
https://www.youtube.com/watch?v=oxXBgZeLldU
It's great that Ryusei has gotten so fit in the name of paying tribute to his idol, especially at such a young age. But is it good to just imitate your idols and copy their moves, as opposed to innovating using your talents? Ryusei is definitely capable of so much more than just being "Little Bruce Lee," after all!
We're sure you've seen "Little Bruce Lee's" videos (and if not, you should definitely check them out). What do you think of Ryusei's achievements so far?