Alexander Volkov knows Werdum's submissions are his main threat, but he also thinks the art of grappling is losing its applicability in modern day MMA.
Ahead of their main fight card at UFC London, the Russian fighter had nothing but praise for Werdum having trained with the Brazilian in the past.
"He's really well-rounded and he's really smart. I know he's smart because I've trained with him. I think one of my best tools is my brain, I think I'm a smart fighter, too. I think it will be a really interesting fight because of that. I think the smarter fighter will win this fight, and I expect that to be me." Said Volkov at a media event last Thursday.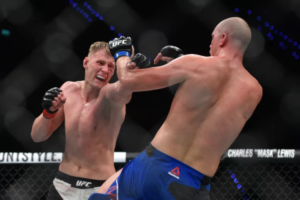 Volkov drafted in help from the best grapplers in Russian to prepare for the former UFC heavyweight champion Werdum.
"We have a really big team of jiu-jitsu players in Russia, it's a very well-known team in the grappling world, it's called Team Strela. The guys on this team are the best jiu-jitsu players and the best grapplers in the country. The team is made up of elite competitors. I've had the best wrestlers and the best submission fighters helping me to prepare from him. I feel like I'm ready for anything." Explained Volkov.
Volkov specifically prepared for various angles of ju-jitsu, and for that reason he thinks it will be very challenging for Werdum to force a tap from him.
"Jiu-jitsu has a really long and rich history in MMA, but compared to the past, jiu-jitsu is not as important as it used to be. Less and less people who are only good at jiu-jitsu become UFC champions," he said.
"Werdum is a really high-level jiu-jitsu player, and he's definitely stronger than me in that area. He would win if we were just doing jiu-jitsu, but we're not just doing jiu-jitsu.
"This is an MMA fight and I think it's very difficult to submit guys who wrestle and also train in jiu-jitsu. I won't trade submission with him, I'm going to strike with him and try to knock him out. I think it will be very difficult for him to submit me. He is really good at striking too, for sure. I can't say he's like those jiu-jitsu guys or wrestlers who are just good at one thing. He has really good striking and he knows how to use that skill. I just believe I'm better." Exclaimed Volkov.
What do you guys think? Do you think Volkov is correct in terms of ju-jitsu's relevance?