MMA fighter wins fight when opponent KOs self
Caleb Williams did not have to exert too much energy during his MMA match against Matt McCook on Saturday. His opposition, did most of the work! McCook inadvertently knocked himself out with a face plant after a hip toss went awry, Bleacher Report reported.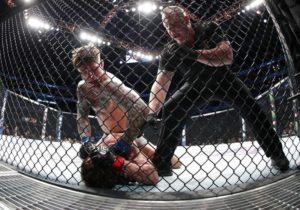 The two fighters were competing at the Seminole Hard Rock Hotel & Casino in Hollywood, Florida. Williams had his opponent backed up against the cage in the octagon during the first round when McCook went for a hip toss. However, Williams had McCook's arm tightly secured and his stance ensured he would not fall.
SELF KNOCKOUT! Caleb Williams gets the wild win. #ShogunAtHardRock @FloCombat @AllianceMMA @shogunfights pic.twitter.com/ct3U5mXVwK

— Josh Sánchez (@jnsanchez) March 18, 2018
As you can see, McCook went face first into the mat and was knocked unconscious.
Game.