It's hard to say when becoming a 'legend' actually happens. For most of the legends we remember, they are long passed, existing in history books with stories that seem a bit larger than life. However, in the modern day, everything is documented and stories of greatness travel much faster, giving way to a new era of living legends, such as Brazilian Jiu-Jitsu master Rickson Gracie.
On April 20, 1995, Rickson Gracie was momentary hailed as the greatest fighter on the planet. Around 15,000 fans were sat at the Nippon Budokan Hall watching the Vale Tudo Japan fights – where only one many remained standing after three consecutive and incredibly brutal fights.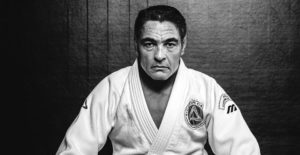 So what was legendary about that? The competition happens every year and there is always a winner. There was no underdog story and there was no heartstrings being pulled. There was almost nothing legendary about it, apart from the way that Rickson Gracie claimed his prize.
The notoriously brutal fighting tournament puts men in fights after fights until a winner is found. Yuki Nakai, the smallest man in the tournament, sustained some serious facial damage in his last fights, leaving him blind thanks to the blood, swelling and a vicious eye gouge. Regardless of his injuries, he managed to win two more preliminary fights and was then set to fight against Rickson Gracie.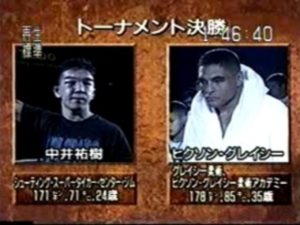 Rickson Gracie knew of the damage he sustained and before the fight called him brave, with a heart of a lion. Once the fight began, he spend the whole six minutes in the ring throwing punches every EXCEPT the face. Of course Nakai lost, after a rear naked choke, but everyone was amazed by Gracie's care regarding Nakai's face.
Once he took the title, he had delivered. It was the culmination of hard work and strategic planning. To spread their message of leverage over brawn and technique over athleticism, Rickson Gracie had taken his barnstorming tradition to global levels. He had a perfect record of 8-0 and became a living ambassador for Gracie Jiu-jitsu.
The competition was in fact a thinly disguised showcase for Gracie Jiu-jitsu and he did capitalize on the opportunity. With similarities to the UFC, the Vale Tudo Japan was a competition the Japanese got behind. After winning the first one without a strike to his opponents face, he returned next year to defend his title – and forever lock in his status as living BJJ legend. His stoic demeanor, relentless fighting style (being nicknamed Urso, which translates to Bear), and undeniable skill won the hearts of Japanese fans once again – he was a modern day samurai and they loved him for it.