If you've heard of Kyokushin Karate, you'll have heard of Mas Oyama. If you haven't then read on to learn more about him, and if you have, you'll be surprised to learn that he's not just another Karate master, but a total badass who killed real life bulls with one fist to the face.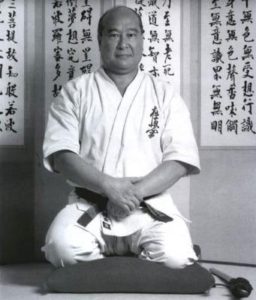 Although we stand firm in believing that the senseless killing of any animal is just wrong, we have to admire the strength it takes in Mas Oyama's case. Born in Korea in 1923 (and then moving to Japan as an adult, gaining Japanese citizenship in 1964), he grew up in a world less obsessed with animal rights and more obsessed with power and glory.
Growing up on his sister's farm in Manchuria, it was no surprise that his karate targets soon moved away from punch bags and towards more unpredictable, horned and hoofed rivals. Oyama founded the Kyokushin style of karate, which is a violent, kick-you-in-the-balls kind of karate – you know, the kind you see on movies or in street fighter.
In true karate master style, his first teacher told him to plant a seed and jump over it 100 times a day, every day. As the seed sprouted and grew, Oyama began to jump higher and higher, ending his career with some of the best jumping kills in the field. Once he was an adult, he joined the military but never saw combat in the Pacific War that was being fought around him. Pissed off that he couldn't go kill any Americans, he began attacking random occupying US forces in Japan instead.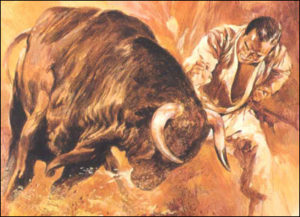 After several arrests, Oyama realised that beating soldiers without any warning or provocation was a bit OTT. So he decided to climb the famous mountain where the equally famous master Miyamoto Musashi compiled The Book of Five Rings and train alone in the wilderness until he could crush people's faces with one palm.  For eighteen months he punched trees, ran through the wilderness, lived off the land in a homemade shack, meditated while kneeling under freezing-cold waterfalls, and broke rocks with his fists. In 1974 he returned to civilization and absolutely rocked it at the Japanese National Martial Arts Championship before heading back up the mountain for another 18 months, as you do.
When he returned, he opened a school to teach his new style of Karate to kids in the city – who all found themselves totally destroyed in the process. Why? Because Oyama didn't go for the usual punch bag and boxing glove, but instead brought livestock into the gym for people to fight.
Before he knew it, he was famous for all the wrong (and may some right) reasons. So, to publicize himself more, he entered a ring no less than 42 times against very big, angry bulls. Three of these fights ended after just one precision punch to the face of the bull, killing it outright each time. This earned Oyama the name "The Godhand" given his god-like power. Legend has it that he even karate chopped off a bull's horns once in one of the fights!
In the end, Oyama made a 100-man battle the requirement for getting your fourth-degree black belt in Kyokushinaki Karate and to this day, you need to fight a hundred full-contact matches in a row, win over 50% of them, and not be knocked down for more than five seconds at any time in the trial to earn it. Can we all agree this guy is just insane? He killed bulls with his hands guys, if you saw it with your real eyes you'd want to know his secrets too right? Well, luckily for us, someone back in the 60s filmed this incredible spectacle. Animal lovers beware…