With the popularity of MMA and other mixed no holds barred types of fighting increasing every day, the fights that happened both in the ring and in the streets have moved away from fair duels of fists and ethics, to an anything-goes culture of fighting that sees opponents throw punches, kicks, elbows and knees at each other often bringing the fight to the floor.
Ground fighting is common in the UFC and other sports, taking from BJJ and other traditions that have a special fighting style for the ground. When it comes to street fights however, the fight usually ends up on the ground for less…ahem…professional reasons. Some say up to 85% of all street fight end up with the two idiots rolling around on the ground, but we'd not be surprised if it was more.
So, instead of eating dirt with your opponent and looking like a pair of inebriated possums, get off the ground and bring the fight to the level of men – upright on our two legs. We didn't spend millions of years developing opposable thumbs and standing posture for you dumbasses to just forget all that and fight like dogs.
So, how to get off the ground properly then? We hear you ask. Well, it all depends who's on top. If you're there, smashing the living daylights out of your attacker, you've either won the fight and can stand up whenever you like, or a bottle of beer will be crashing around the back of your head before you've had time to shout Leeroy Jenkins. But if you're on the bottom, you really need to get that upright position back ASAP.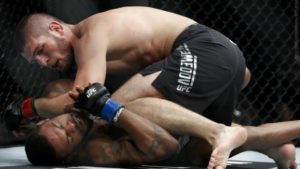 Roll with it – If you are being pushed towards the floor, maybe with a shunt towards a chair or a railing that your attacker will use to send you flying, make sure to roll into the fall instead of falling to the ground and getting back up. With the roll, you avoid that stop in motion and before they've blinked you're on your toes and you'll also look like a Kung Fu master.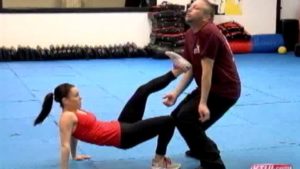 Bring them down – In a controlled way, if you find yourself falling, make sure to bring that wanker down with you. Whether you just knock them off balance or bring them to the floor, make sure they are not poised to execute another attack straight away.
If they do come down with you, make sure that you are in control by falling towards them while pulling them down. With any luck, they'll lose balance and fall over your own body, making it easy to flip them in the same direction using your knees while twisting them as they fall. As they are on the floor, go for their eyes and then leg it out of there.
If that sounds all a bit confusing, check out this Fight Tips video and watch it for yourself.