Despite all the talk you hear from the grandmasters of martial arts, in reality there is no real science that supports the ability to 'take punches' without being hurt. Saying that, there are methods we can adopt that help absorb punches – meaning they damage us less – and also delay the inevitable, just long enough to escape the situation before you start to cry.
To become godlike in your ability to take a pounding (of fists please, you naughty people), you should practice defensive drills to increase your skill and ability in absorbing or deflecting the attacks. Whether you end get getting pounded on the floor, on the kitchen counter or in a back alley with three other men – you should try your best to take it like a pro and still be ready for more once it's all over.
Relax
Just like when something fast and hard is coming your way, like football or an overweight baby, you need to relax your body so you are not rigid like a brick wall, making impact all that more painful. Don't forget to relax that beautiful face of yours too, otherwise it may just get stuck in place, with a huge fist mark imprinted onto your skin forever.
Keep Eye Contact
When getting pounded hard, eye contact is key to making them finish as quickly as possible. (We are still talking about fists here boys, calm down!) When you keep eye contact, you are letting your attacker know that the punches are not hurting, and it gives you the advantage of being able to determine where the next punch will come from and defend yourself in time.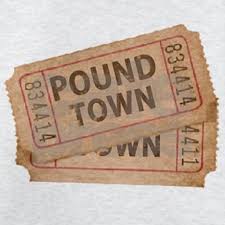 Brace for the hit but don't go stiff
Contrary to popular belief, if you are getting a good pounding, it is better to keep limp. If contact is imminent, brace yourself several inches after the impact, giving you that slight malleable give that helps reduce impact speed and damage as the energy disperses into your moving body. There is only one exception to the rule and that is when it comes to the stomach – there you need to tense and breathe out as the fist makes contact with your gut to prevent you from becoming winded. Practice by having someone drop a medicine ball on your abdomen at the gym.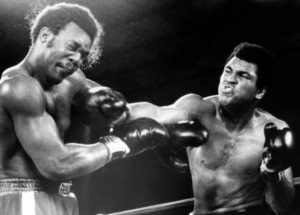 Roll with it
If you have ever sparred before, you'll know that when the attacker is on a roll, pounding you relentlessly and with no sign of stopping, it may be better to just go with the flow. As soon as you work out their rhythm, it becomes a lot easier to react accordingly and you can begin to literally 'roll with it' as you twist and turn your body in sync to the punches, avoiding as many as you can and reducing the overall striking power of the ones that do hit.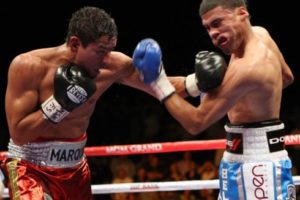 Avoid the strong ones
A good boxer doesn't try to block every punch, but he does try to avoid the powerful ones. A quick jab to the face can be dealt with but when a well-positioned uppercut comes your way, you want to get out of dodge. Simply move your head out of the path of the punch if you can and you'll be dandy – the stronger their punch is too, the more likely they will be put off balance if they don't make contact.
So in conclusion, if someone wants to take you to pound town, you need to relax, brace for impact, roll with it and never, we repeat, never, break eye contact. Oh, don't forget, you'll need these tickets too…