Bruce Lee is one of the most famous martial artists of all time, and easily among the world's most powerful fighters. Yet, he was no muscle-bound Hercules, and seemed to be diminutive in comparison to what we'd think of as a "strong" human being. How was he so powerful with such a small frame? Let's break it down into 3 important reasons.
He had incredible speed and power in short bursts
Thanks to his intense training regimen, which consisted of brief explosive bursts of power, Bruce developed incredible twitch muscle power that could be accelerated very quickly over a short distance. This is best seen in the amazing power of his famous "one-inch punch." Since true strength is not from muscle, but from the nerves that control the muscle, you don't necessarily need to be huge to contain great amounts of power, it's down to how the muscles contract. Always aim for short heavy reps in strength training, as longer ones send weak signals to your nervous system since you are exhausting the muscle.
He was more muscular than the untrained eye would think
Bruce Lee might not have looked like a big bodybuilder, but he didn't need to. Indeed, he had extremely low body fat, and a musculature that was more akin to that found in gymnasts, who are very strong even despite a relatively lean appearance. One very notable aspect of his muscle build was his massive latissimus dorsi, the muscles in his back that uniquely stretched to either side. These tremendous lats allowed him to transmit even more power from his lower body to his upper body.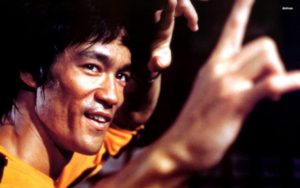 He had mastered his body
For all his musculature, Bruce Lee could never physically reach the strength of someone much larger than he, simply due to the biomechanics of him being a mere 171 cm in height. However, his incredible mastery of his body, from his movements and technique to his skill, allowed him to utilize his relatively small frame to the fullest. Incredible feats like holding a 75 lb barbell horizontally in one arm were possible because of his efficient training and use of his muscles. He was able to do reps of 50 one-arm chin-ups, which anyone else would find completely impossible to achieve. His fine form and technique allowed him to deliver more power in a single blow than would normally be possible by someone of his size.
Does size matter when it comes to strength? Do you know any other fighters or martial artists who were stronger than they looked?