The Shaolin Temple is located near the base of Songshan Mountain near Dengfeng City in Henan Province in central China. Due to its status as a UNESCO world heritage site, it can receive over a 100,000 visitors a month.
Daily life for the Shaolin monks is not easy. The mornings are early, the training is so intense, that you could learn in a few weeks what it would take to learn in 2 years in the west. The Monks do not shy away from physical punishment, such as beating students with a stick, if mistakes are made. While this simply would not be acceptable in the west, their reasoning is that harsh words can scar a person for life, but physical punishment is forgotten when the pain goes away. It is also effective in getting them to perform at their best.
A typical day looks like this:
5:00: Rise from bed
5:15–5:30: Sitting Qigong
5:30–7:30: Morning run and kung fu practice
7:30-8:30: Morning meal
9:00–11:30: Perform temple tasks, like working at farms, chopping wood, and tending to commercial affairs. (Monks who are Elderly or children attend Buddhist classes).
11:30–12:30: Lunch
12:30–5:00: Afternoon kung fu practice: martial exercises and combat skills
5:10–6:40: Evening Buddhist lessons
6:50–7:30: Dinner
9:00–10:00: Personal Time
10:00: Go to bed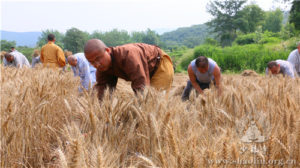 Morning training begins with an empty stomach and a warming up session, which includes loosening up the body by rotating the joints and then stamina training with endurance exercises such as running, jumping, push-ups, etc., for 15–30 minutes.
This is a life without luxury. The sleeping quarters are shared and contain only the essential, which include a bed that has a flat wooden board instead of the comfortable mattresses we are used to. In terms of entertainment, books are available at the Temple Library. With regards the use of modern technology,  they monks believe Masters are not as powerful today due to the electrical signals such as wi-fi, satellite, radio, television etc. As a result masters are 15 percent less powerful than in ancient times, so these are avoided.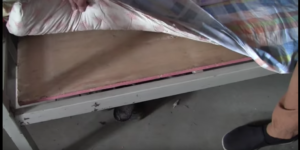 What do they eat?
There are 3 meals a day to help keep their bodies energised for the rigours of Temple life. The monks have a carbohydrate-rich dinner of noodles and bread. The Shaolin Temple typically serves bread made from black rice flour or yellow wheat flour. Their protein comes from beans, tofu, milk and nuts.
Alcohol in any form is strictly forbidden for the monks.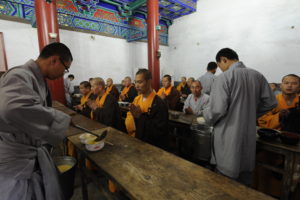 They must keep their bodies in constant top form, as it is possible that they will be required to perform their skills to hundreds of visitors at the drop of a hat. In order to ensure they are ready, the monks closely monitor their health, including using EEG machines to monitor the effects of the meditation practices on their brains.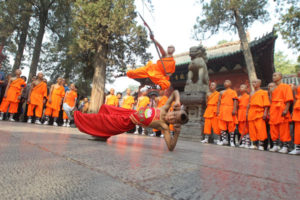 Difficulties of daily life…..
During the summer the temperature can go up to 40 degrees celsius, but in winter it can drop to -20. Still, even at such a cold temperature, you are still expected to be able to perform the splits first thing in the morning. Injuries can be common.
The extreme cold is just one of the things that can make life difficult. Sometimes it is possible to go a week without electricity or running water, but despite what is thrown at them, the Monks continue to rise at 5am and do what needs to be done.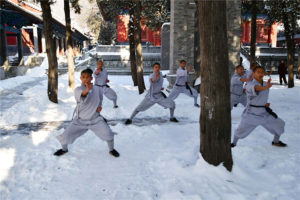 While there are many hardships that the Monks must endure, the payoffs are a compensation. They get to train with some of the greatest martial artists in the world and are forever part of a close-knit community of brothers.