Manny Pacquiao has succeeded in retained his WBA world welterweight title after a strong win over Adrian Broner in Las Vegas.
Impressively, this is the 40-year-olds 70th fight and he showed no sign of slowing down, dominating his American opponent with confidence. Broner, who is 11 years younger than Pacquiao only managed to get about half the punches in as the victor. Yet, bafflingly, he seems to think he was the clear winner and the ruling was unjust.
"I beat him. Everyone out there knows I beat him. I controlled the fight, he was missing. I hit clean more times. I beat him," he said.
But with a result of 117-111, 116-112, 116-112, and a ratio of 112/50 connecting punches, and 47/3 connecting body shots, all in favor of Pacquaio, the American has convinced us of only one thing: he is a sore loser who lacks the integrity to congratulate his opponent on a successful win.
Just because someone may have spent their entire life in the martial arts world doesn't necessarily mean the will have picked up all the lessons. Mainly, respect!

This success has clearly given Pacquiao an extra burst of confidence, since he now says he is open to a rematch with Floyd Mayweather, the unbeaten champ defeated him back in 2015. "Tell him to come back to the ring and we will fight." "I am willing to fight with Floyd Mayweather if he is willing to come back to box."
Mayweather, who was there for the fight, has not responded. We will be keeping our fingers crossed. Both fighters are supposedly retired/retiring, but recent events say otherwise.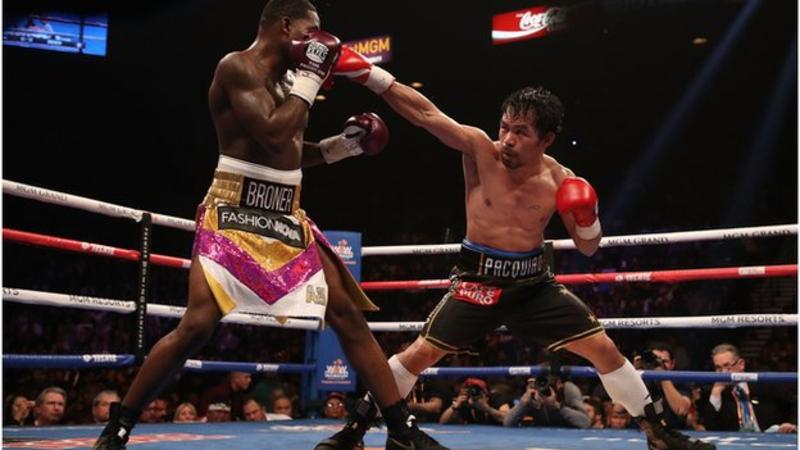 If this match were to go ahead, who is your money on?