As the upcoming Avengers movie is finally given a release date, we thought now would be a good time to look back on the past movies and compare two of the most badass martial artists in the franchise – Black Widow and Captain America – and see who's best.
Naturally, all the scenes in the movie are very Hollywood, but we still want to work out what styles they fight in and who's the better fighter, and until Marvel come out with a Capt
ain America Black Widow versus movie, we'll have to make do with what we can grab from the movies themselves.
Black Widow
Badass and unrelenting, the Black Widow is not a woman you want to get on the bad side of. With the violent and street-style approach to fighting, some suggest that she has taken a lot of inspiration from Muay Thai, probably after spending a holiday on one of the islands no doubt. Another side to her style could be attributed to Eskrima too, a Filipino martial art that emphasis weapon-based fighting with sticks, knives, blades and literally anything else fighters can get their hands on – exactly what Black Widow enjoys most. Check out this compilation video to see how she fights in all of her movies so far.
The way she keeps her elbows in and taking power from her weight rather than the torque in her arms suggests influences from Brazilian Jiu-jitsu, and if you add in a side of Kung Fu and Wushu and you've got yourself Black Widows fighting style. With a clear MMA style to her approach, her attacks are powerful, sometimes unorthodox and full of grace.
In previous movies, her choreographer was Jonathan Eusebio who has a history of fight scenes in movies such as The Bourne Ultimatum, John Wick and Batman. In Avengers 2, Eusebio was replaced by James Grogan and Roy Taylor who have a more WWF style to their fight scenes so we expect to see a few more roundhouse kicks and flying grapples in the upcoming movie.
Captain America
Too weak and scrawny to be enlisted in the US military, patriot Steve Rogers volunteered to take part in an experimental super-soldier programme that saw him injected with some super serum making him into the hero he is today.
With a clear one up against his opponents, including Black Widow some would say, he has become the pinnacle of human physical potential. Trained in many forms of martial arts, Captain America was able to skip training and enhancing his physical performance thanks to the serum, and get stuck into the technique and skill building right away. So far in his story, Boxing, Judo, Aikido, Jiu-jitsu and a number of Kung Fu styles such as Tai-chi-chuan and Wing Chun, have been confirmed. Another theory is that he is seen teaching Bucky and Hawkeye a number of sophisticated hand moves from Ninjutsu which implies that he may have learnt or fought ninjas back in his era once before. Let's not forget his shield too, which can travel up to 20,000mph and can neutralise almost any projectile.
Despite his clear advantage at this point, we must remember that Captain America existed during WW2 before he disappeared and only remerged today – missing the last sixty odd years in the process. Because of this, he is missing all the more modern fighting styles that now dominate UFC and MMA fights so maybe he is a little in the dark at this point.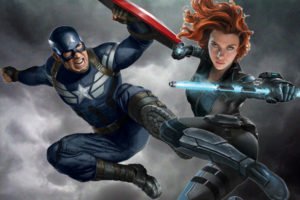 So who would win?
Captain America is clearly more versed in martial arts, and his is extremely fluid when fighting, being able to chance stance or style in a flash depending on the environment and his opponent. He has even shown ability to master aerial combat after he was trained in acrobatics in preparation as Winter Soldier. However, Black Widow takes the gold when it comes to modern fighting styles. She's a brawler and she can chop and change just as much as Captain America when fighting multiple opponents. She focuses more on brute force and powerful blows whereas the Captain takes a more choreographed approach. Black Widow has a history of wrapping people's heads in her legs before throwing them to the floor, flipping them and hitting them with batons and other weapons found in the field. Her close- quarters flurry of sticks and barrages disorientates her opponents, whereas the Captain is usually encumbered with his shield when the fight gets up-close and personal.
Black widow is well equipped with her weapons and tools, and has a lot of nasty tricks however, and the story goes she also had some serum to bring her to optimal performance, but of course the Russians were less refined than the Americans at the time. This is really a close match.
In a deleted scene that you can now watch on youtube in comic form, the pair do actually go head to head! Sadly, the fight lasts for just a minute before they go their spate ways with a friendly nod. Check it out below:
Both side have their strengths but for us the jury is still somewhat undecided. Captain America clearly has more skills but the brute force and ability that Black Widow displays pitches her as a worthy contender. Let's hope in the next few movies they fall out and fight it out on the big screen so we can finally see who the hypothetical victor really is.