Usar trucos para vender peleas ha sido algo común en el wrestling profesional y ha dado origen a algunos de los combates mas raros del mundo. Echemos un vistazo a alguno de ellos.
King of the Road
Para ganar dinero en la cultura del hardcore de los años 90, la WCW pensó que sería buena idea que Blacktop Bully luchara con Dustin Rhodes en un camión en movimiento hasta que uno de los dos tocará la bocina. El caos resultante hizo que Rhodes se trasladara al WWF, donde se convirtió en Goldust.
Shark Cage
Los dos luchadores se encontraban dentro de una jaula de tiburón en el centro del anillo. El resultado fue algo más parecido a lo que encontrarías en un club de BDSM, que un ring de lucha libre.
Good Housekeeping
En un momento a finales de los años 90, la palabra "good housekeeping" se convirtió en sinónimo de wrestling profesional. Chyna había desafiado a Vince Russo  a un combate donde la única advertencia era que sólo los artículos del hogar podrían ser utilizados como armas. Chyna ganó el combate rompiendo a Russo una guitarra.
Buck Naked
A final de los 90 y principios del 2000, el promotor Rob Black realizo un combate donde las mujeres (de las cuales una era su mujer)  se desnudaban entre sí en el ring. Supuestamente el mejor momento era cuando se apagaban las luces…
Reverse Battle Royale
Probablemente una de las razones por las que TNA ya no existe es la Reverse Battle Royal, en la que los luchadores se lanzan al ring.
Steel Asylum
Un espectáculo confuso de ver, a la par que muy imprudente. Este formato obsoleto obligó a los luchadores a subir a la parte de arriba de una jaula, arriesgándose a sufrir lesiones mortales.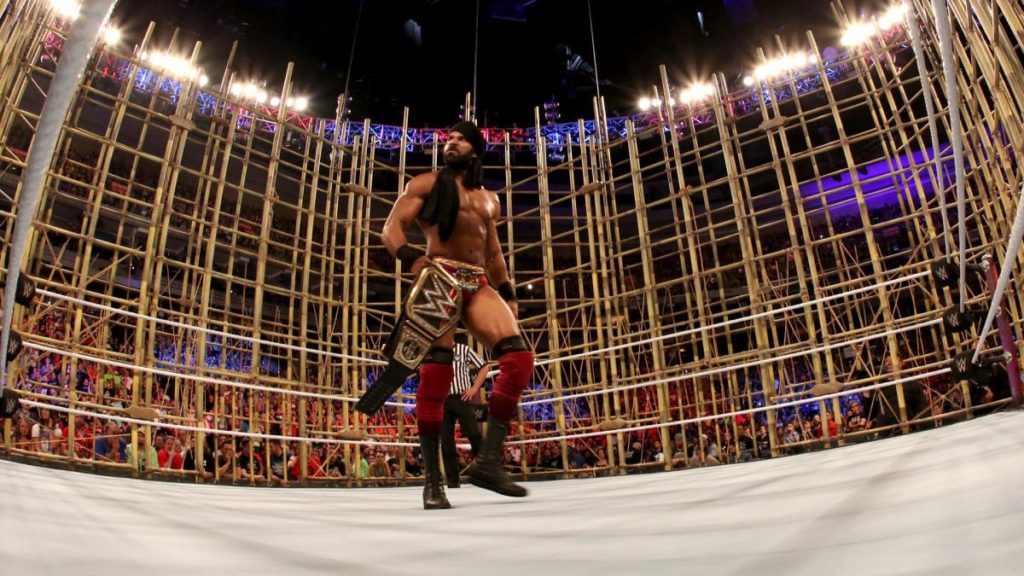 Punjabi Prison
Este tipo de combate era tan desagradable como el luchador para el que fue hecho: The Great Kali, e hizo que las cárceles Punjabíes parezcan buenas en comparación.
Kennel From Hell
Rottweilers y la lucha libre pueden parecer una buena idea, pero también lo hizo Hindenburg.
Chamber of Horrors
A principios de los 90, la WCW tenía a Mick Foley, Sting y Scott Hall, entre otros, luchando en una jaula de Thunderdome-esque hasta que alguien fue 'matado' en una silla eléctrica.
Anus Explosion Death Match
Petardos en el culo. ¡Los japoneses nos han extrañado a todos!