One four minute round. No weigh-ins, no Muay Thai boxing gloves. No Rules except it must end in a KO or the fight is a draw. $17,000 deposits from both teams and a shit load of ringside bets.
This No-Rules fight in the Lumpini Stadium is the first of its kind, and whether you agree with it or not, it happened and the takings were outstanding.
The fighters were rough and deadly. Sia Bo had more tattoos but Gong had more experience. These two small time gangsters ended up in the ring after an argument on Facebook went viral. Instead of taking the fight to the streets, they made it official…well as official as a no-rules fight can be. With only 10 days training under both of them, the two stepped into the ring of one of the most prestigious stadiums in all of Thailand.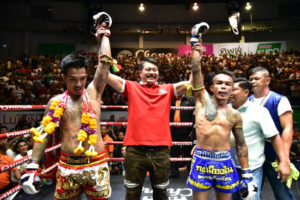 Although a similar fight had once occurred between two cock-fighting rivals, the fight was televised but attracted less of a crowd. With a score of gangsters supporting either side, the fight between Sia Bo and Gong was bound to be big.
Despite many having serious reservations about the fight, including two big time Lumpini promoters, the money that was being thrown around was enough to keep it alive which had as much support as it did dislike.
In an interview with a local TV station, the pair said that they were "showing young kids that it's not ok to fight on the streets, and we're bringing a lot of attention to the sport of Muay Thai. Win or draw we are still going to be donating money to a local charity that helps out street kids who don't have parents."
With over 1 million baht ($34,000) made in ticket sales, and 5 million baht ($170,000) in ringside bets – don't forget this is a country where gambling is still illegal mind you – the fight was big money. 300,000 baht of the winnings was donated, as the gangsters said, to a charity that helps street kids so like it or hate it, there was some good that came out of the fight.
Despite all the hype however, these two gangsters were, unsurprisingly, terrible in the ring. The fight was lackluster at best and their inexperience showed. Although Gong had a few decades fighting experience under his belt, a 10 year hiatus really showed. Sia Bo tried choking Gong at one point and totally failed. The fight soon turned into a comedy spectacle and the four minute time limit seems suspiciously short. Maybe they didn't really want to get hurt…gangsters are usually pretty weak when it comes down to actually fighting.
Finally Sia Bo went down, not thanks to a well-placed punch, but due to his own exhaustion. However, this was no KO so the fight continued before the bell quickly sounded. The fight was a draw. Was anyone surprised? Probably not. Did people lose millions on betting on a winner? Probably yes. Did the two settle their differences? Who knows?
Either way, the fight will go down in history as one of the most expensive, and one of the weirdest fights to happen in Thailand's Lumpini Stadium to date. Both fighters made no money from the event, with the bookies taking every last penny, except for a donation that was made from both Sia Bo and Gong to a local children's charity – so not all was for nothing.
What's the bet they go and fight it out on the street next week to finally settle the score?