Former overweight mom, Olivia Parker, weighed in at 325 pounds at the age of 32. Parker had enrolled in a weight loss program "Get Fit Seymour", which mandated a weekly workout for its participants. When she got to the class she was supposed to attend that Thursday, however, she realized it was full. She had to find something else to do that very night, or she would be kicked off the program. Then she saw a kickboxing class on the schedule.
"I was thinking like Tae Bo – as in I was going to punch and kick the air in this room set up for just 'Get Fit Seymour' people," Parker told MMAjunkie. "It was in the basement of this old church – I guess the church was being used, but the basement under it was not."
Parker and two other women from the same program, whom she didn't know, walked in with her.
"We get halfway down the stairs and we start smelling that bleached mat smell, that kind of sweaty guy smell," Parker recalled.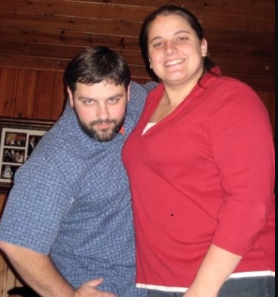 "I get down there and there's a gigantic cage right in front of the doorway," Parker said. "And in that cage is Ovince Saint Preux and another guy. And as I walk in, 'Vince kind of slams the guy and the whole room just shakes."
"I wanted no part of that," Parker said. " I was like, 'No way am I doing this.'"
Still, she took the class. And then, happy with the gym and its welcoming, encouraging environment, she took another one. And another one. Six months and 60 shed pounds later, she was suggested a Brazilian jiu-jitsu class.
"I was like, 'I am not fighting anybody in the cage,'" Parker said. "I'm a 32-year-old mother of two. I am a teacher. I have my career. This is crazy. I go home and tell my husband, 'I think I'm going to try this MMA class out.' And my husband, who knows me very well, says, 'Olivia, you're so competitive you're going to end up in a cage.'"
Parker denied it at the time. She was just taking classes, she insisted. Yet, a few months later, there she was, knocking out her opponent in the first round of her amateur debut.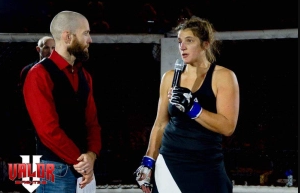 Parker's story has gained some local notoriety. She's had TV crews in her classroom and has even done meet-and-greet sessions in which she got a chance to talk to people looking for some guidance when it comes to changing their own lives.
But Parker won't settle for being an inspirational story. She's now focused on getting her weight down to 145 or 155 pounds, safely and slowly, in order to expand her pool of opponents. Her coach is the one who ultimately makes those calls, but Parker feels ready and would like to make the move to professional MMA "in the near future."
Sure, 35 is not exactly the average age for a pro debut. But, then again, average doesn't seem to be a word that Parker operates under.
Do YOU have any awe-inspiring stories to tell?