Mixed martial arts (MMA) fighter Angela Lee is set to make another stunning return to the Singapore Indoor Stadium, where she defends her One Championship atomweight (47.7-52.2kg) title against Mei Yamaguchi from Japan, on May 18, 2018.
The last time she fought at the venue in November, the 21-year-old who fights under the Singaporean flag in the ONE championships, had been overcome with emotion as she made an appearance at One's Immortal Pursuit event.
Lee 's unfortunate accident involving her automobile pushed the original fight card (against Mei Yamaguchi) back. Recalling her tearful walk down the ramp then, Lee said: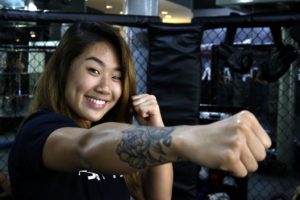 "It was a really rough time for me, because it was just a couple of weeks after the accident, so I was still very shaken up about it and I was not in the best frame of mind. "It was a lot for me to take in, being in a packed Singapore Indoor Stadium, with so many things going through my mind about not being able to compete (that night). "Seeing everyone and feeling the support from everyone, there were just a lot of emotions and I could not contain myself."
Lee, who is based in Hawaii and Singapore, was driving from her home in Hawaii to her gym at about 4.30am in early November when she fell asleep at the wheel, causing her car to flip after it hit the guardrails. She suffered a concussion and minor burns in the accident, and even suffered nightmares well after the incident.
"Now I am back at 100 per cent, and you can expect to see the same Angela Lee that blew up the MMA scene in 2015," said Angela "Unstoppable" Lee. "I will go in there with confidence, show my skill set, and have my hand raised (in victory) again."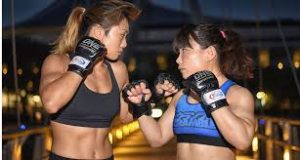 Yamaguchi, however, is certain she has Lee's title in the bag. The 35-year-old Tokyo native said she has spent the past two years working on improving her skill set in jiu-jitsu, karate and kickboxing, all essential skillsets in the octagon.
Who will you be rooting for?