Anyone who is a fan of Paige VanZant need not look any further for her secrets, as this UFC women's flyweight fighter is publishing a new book that explores her past, her feelings and gives great insight to who she is as a person and how she has the ability to overcome adversity.
The fighter jumps into the deep end from the beginning, explaining in harrowing detail about being the victim of rape in high-school before enduring countless bullying and controlling relationships in her early 20s.
The book, Rise: Surviving the Fight of My Life, comes out on Tuesday and cuts no corners in telling this incredible woman's story.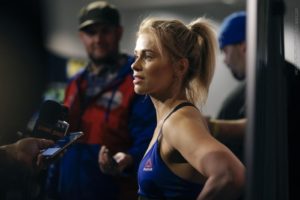 VanZant has said in reports that she wanted to write a book to express her feelings and tell her story, so that she may tell it in her own words and at her own pace.
"I had written stuff in high school, and I had written things here and there," she told MMA Fighters.
https://www.mmafighting.com/2018/4/10/17218364/ufcs-paige-vanzant-opens-up-for-the-first-time-about-being-raped-in-new-book
"It got to the point where it was like, you know, it's time for me to share it. I guess being on 'Dancing With The Stars' and being on all these shows and I kept being asked about it, I guess it was time to just be very transparent. If I was gonna say anything and be open about it, the best way to do it is to write it down in a book and let people read it. So it doesn't necessarily have to come out of my mouth, but people get to hear my story."
Although the book is her own words, VanZant admits to using a ghost writer to help her articulate the more harrowing parts of the story, which is part of her design.
"Just so I got to say it one time — I said exactly what I wanted to say to a person, they wrote it down and then I never had to look at it again," VanZant said. "So, it was me voicing everything that happened and I just got it out in the open and I never had to look at it again. It was one of those things where I tell the story and move on."
Although often found in the ring, VanZant has taken some time off to nurse a broken arm she sustained after a UFC fight with Jessica-Rose Clarke in January. According to reports, her injuries are taking longer than expected to heal, leaving her entire fight schedule out of sync.
It's been over 10 years since VanZant was in high-school, but her experiences still affect her to this day. However, on a more positive note, she does accept that due to the successful position she is in now, it is becoming harder for her to look back and be sad about her past experiences. In her book, she says that MMA saved her life, and we'd like to agree. Keep up the amazing fight Paige, both in and out the ring.