Ip Man 3 is a movie that is as epic as it is implausible. The third, and final movie in the trilogy that aired on January 22, 2016, you see Ip Man unleash the violence and grace of Wing Chun for the final time.
Ip Man take on swarms of karate masters all at once, defeats heavyweight boxers three times his size with ease and cripple entire gangs armed with just a stick of bamboo. From Kung Fu master to Comic book hero, Ip Man takes on the impossible and defies death every step of the way. But is this okay? Sure we all enjoy a good action movie, but when the movie is based around a specific tradition, to portray it in a false light may have ramifications that are not the good kind.
With some commentators waxing lyrical about how the fight scenes encourage people to enter into fights that in reality they cannot win, a master of Wing Chun has spoken up in defence of the movie – a movie he really loved.
Master William Kwok teaches Wing Chun in the upper east side of Manhattan, and his school was once a subject of a documentary special on CCTV – the Chinese Central Television station.
He claims that spicing up movies with implausible fantasy is okay when it still holds a good message about the martial art it is portraying. On his personal blog, Kwok talks about how, given his lifelong dedication to Wing Chun, the movie was a great success.
"I like it not only because of the action but also because they talk about messages about martial arts, behind the meaning of studying," he explained. Contrary to many reviewers suggesting the film was an insult to the tradition, Kwok explains that you must remove yourself from reality in movies that are clearly not set in the real world. "I watched it as entertainment, as a promotion of the name Wing Chun. Of course in the movie they turn Wing Chun into a superpower where one man can fight a thousand people, but moviegoers want to see a lot of action going on in the screen."
He suggests the movie also did a good job at incorporating a lot of basic Wing Chun theories and teachings so that the general public also inadvertently learned a bit about the tradition he holds so dear to his heart.
"In the movie [Ip Man] demonstrates what a true martial arts practitioner should be like: very humble, have courtesy, try to help out the community, help society. It's not easy. In the movie he tries to really balance his responsibility between his family and his social responsibilities. So that is kind of touching, to me."
As Kwok also runs a very successful WIng Chun school, he sees first hand the type of people who are encouraged to train after watching movies such as Ip Man. He suggests that around 20 – 30 percent of new students were inspired by a movie or a video game, but only about two out of every ten would stay and properly train.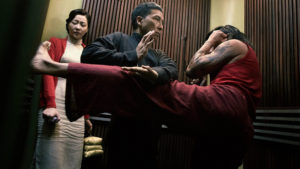 In fact, Kwok suggests that MMA and UFC are more damaging to Wing Chun than the movies, given the negative opinions surrounding the tradition. Many MMA fighters say that Wing Chun is impractical, but Kwok suggests that they don't really know what they are talking about. "How do they know it's not practical? You can't just compare an MMA competition in a cage to everyday life situations. Let's say you get into an elevator or a train, how do we protect ourselves?"
A sassy response by a guy who instead of finding problems tries to see the good in everything…well apart from those know-it-all MMA fighters that suggest Wing Chun is bad. In conclusion, it seems that Ip Man 3 is another great movie that, although elevates Wing Chun to inhuman levels, showcases the best things about the tradition in a way that will only spark interest in others to join the movement, train in Wing Chun and maybe one day win a UFC title and prove those pompous MMA fighters wrong.