Action movies are always better with martial arts. We all know it's true, so when you mention the name Cung Le, then we shudder with excitement. In the world of MMA, few names have achieved such a legendary status, and in the movies he is also up there with the top.
Coming to the United States with his mother as Vietnamese refugees in the mid seventies, Cung immediately took an interest in the vast number of martial arts available to study and practice in. Starting by joining a Taekwondo school at just 10 years old, he was taught the Korean martial art alongside Kung Fu by the same instructor. By high school, Cung was training in Sanda and two years after graduation he was competing for the US team in the World Kung Fu Championship.
Well versed in many different fighting styles, Cung is most well-known for his amazing skills in Sanda (Kung Fu in the form of full-contact kickboxing), with dozens of wins under his belt even before he popularised the art through his career in professional kickboxing and MMA.
Cung was also a master of the silver screen. Only he could fly through the air and pull off high wire martial art acrobatics that any other fighter or experienced practitioner would need months of training for. Some movies he is famed for is Dragon Eyes, Bodyguards and Assassins, The Grandmaster and Into the Badlands. In fact, Cung opened up an avenue for other well-known fighters to get a chance in Hollywood, such as Ronda Rousey who starred in The Expendables 3, Randy Couture and Gina Carano.
"if you look at the call sheet for "Into the Badlands", I'm the only person in the cast, from top to bottom, without a stunt man. I did all of my own stunts on "Dragon Eyes" too, and in "Pandorum", I did 95%."
Balancing movies and professional fighting can be challenging however, being once quoted saying that "I believe it's still a work in progress balancing out the film career and the fight career. I can say I'm part of a movie that was nominated for two Academy Awards, so I can say no MMA fighters could say that yet."
A few MMA greats have challenged Cung in the ring, with his toughest opponent probably being Michael Bisping of whom he lost to during a UFC Fight Night, that left Cung with a completely destroyed face. Frank Shamrock because of his legendary status in the MMA. When Cung Le went up against Frank Shamrock, that was probably the biggest fight of Cung's career to date.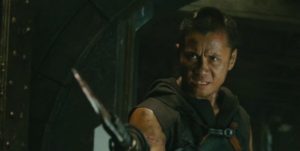 Shockingly, Cung went so hard in that fight he broke Shamrock's arm! Quoted in a recent interview, he said that "I hit him with everything I had and the kitchen sink and he was still there, but when I saw that he was blocking my kicks like you would block punches, with one hand, I just kept kicking away because I knew that eventually that would hurt his arm, and it ended up broken in the third round. He was the toughest dude, because it wasn't just a fracture, his arm was broken, and I came at him to try to finish him and he was still punching me with that arm. He was one tough dude, and he went out like a warrior!"