In the world of MMA, Jon Jones is a name that can be associated with "among the world's greatest" and "stripped of his title" in the same article. The three-time UFC light heavyweight champion is a master of his division, having been the youngest titleholder in UFC history as well as holding numerous records within his division. Yet his career has been marred by controversy, having been tested positively for performance-enhancing drugs twice, and having been arrested for felony charges. In this two-part article series, we chronicle the rise and fall of Jon "Bones" Jones, from college wrestler to reigning champion.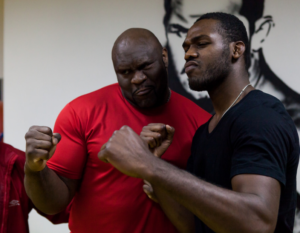 Jon Jones's MMA career began in 2008, but he'd been fighting in combat sports for a couple of years before that. As a college wrestler, he won the 2006 NJCAA JUCO National Championship at Iowa Central Community College and participated in championships in 2004 and 2005. When he made his debut in April 2008 as a catchweight fighter, he went on to showcase his dominance, taking out 6 opponents over the course of 3 months in a variety of events. His UFC debut in August 2008 led him to three more wins – two unanimous decisions and one submission.
His controversial loss by disqualification to Matt Hamill in December 2009 was the only blemish on his otherwise spotless career record, bringing him to 9-1, and he went on to defeat a variety of great fighters, such as former IFL Light Heavyweight champion Vladimir Matyushenko and then-undefeated Ultimate Fighter Victor Ryan Bader.
March 2011 saw Jon Jones become the youngest titleholder in MMA history, defeating Mauricio Rua at UF 128 to win the Light Heavyweight belt. He'd go on to defend his title eight times, garnering the achievement of having the most successful and most consecutive title defenses in the Light Heavyweight division, as well as third most consecutive title defenses in UFC history, across all categories.
Unfortunately, on April 28, 2015, Jones was stripped of his title and suspended indefinitely, on account of felony charges brought about by him being involved in a three-car crash in Albuquerque, in which a pregnant woman suffered a broken arm. Jones had allegedly run a red light and fled the scene of the accident after the fact.
Thus began the steady decline of Jon Jones's career, which we'll cover in part two of this article series…