Thai superstar Rika Ishige has struck again and this time the victim of 'tiny doll' is Myanmar fighter Bozhena Antoniyar. 
From the beginning of the fight, Antoniyar seemed to be more in attack mode than her opponent, Rika, who seemed content to keep back, throw fewer punches and be more calculating in her moves. This strategy paid off very quickly because as soon as there was an opening for Ishige, she was prepared and ready to take it, getting Antoniyar in a lock that, no matter how much she squirmed and tried to readjust, she couldn't break free from.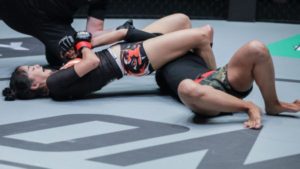 For those of you not yet familiar with the "Smiling Assassin", she is pint-sized, ridiculously adorable and will crush you like a fly. While you might imagine her sitting at home watching match replays or other fighters, she is more than likely watching her favorite film "The Little Mermaid". But don't let the sweet, bubbly, talkative exterior fool you. This lady is dynamite…..just ask Bozhena Antoniyar.
Watch her in action below:
(Video source: One Championship)