Several men have been jailed after a simple MMA fight in 2017 quickly descended into chaos as the scene turned from professional fight to freestyle Wrestle Mania with spectators jumping into the ring, attacking the fighters with chairs and metal poles.
The brawl started during a fight between Adam Lea and Darren Lawler, after Lea elbowed Lawler in the face. The strike was strong and well placed, and for any normal group of spectators the hit would have been painful to watch but perfectly acceptable. However, a few Liverpudlian fans of Lawler decided to defend the fighter by storming the ring armed with stools, chairs and even metal poles.
The fight between the two MMA fighters took place in 2017 but it has taken just over a year to convict those involved, one of whom was a convicted killer! Typical England and their terribly slow court system.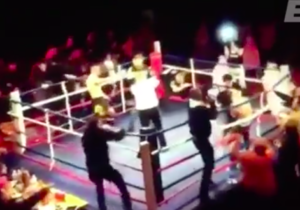 A 29 year old man who was caught in the brawl was beaten so hard he lost consciousness but the hooligans continued to batter his limp body with kicks and chairs while he lay there defenseless.
The brawl was so shocking that a number of people involved have now been jailed for their actions, including a man with a past conviction of manslaughter!
Shockingly, one of those men jailed was Anthony Addison, the same man who was left unconscious on the floor, due to his actions before he was knocked out!
If you dare, watch the video here:
The whole riot was just incredible, and all over a simple elbow to the face that was totally legit in the ring. What is wrong with these people?!
One man was given a 10 month sentence for throwing a bottle at Addison's head while he was unconscious and another two were jailed for 20 months for repeatedly kicking Addison in the head while he was unconscious.
A man called Ryan Gildea, 35, who has a previous conviction for manslaughter as he held his victim still while his friend stabbed him to death, was given 15 months for attacking Addison with a metal pole. Sounds like he didn't learn much in prison.
Liverpool, UK, is known for its gang violence and thug violence and events like these are not uncommon but according to the judge presiding over the case, this one was especially disgraceful.
A month after the brawl, a man was stabbed outside the same arena after a cage fight event featuring Paddy Pimblett.
Even more shockingly however, Liverpool has been selected to host the UFC for the very first time in May 2018! For the first fighters Thompson vs Till, the safest place they could be during this event is probably in the ring.