Don't get us wrong – most, if not all of these professional fighters are highly-skilled, strategic, and intelligent when it comes to the Octagon. But when it comes to their choice of body art, several decisions seem questionable. Think you've seen it all? Well, here are some of the worst MMA tattoos to date.
Anti-Government? Best be discreet.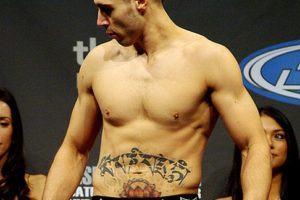 Dan Hardy might sport one of the best mohawks in MMA, but you can't give similar praise for his abdominal ancient text tattoo that's purportedly against the Chinese government.
Don't get caught with a grenade in your hand.
The War Machine has always boasted about his deadly right hand, and fittingly enough, he put a grenade on it. Let's just see how well this grenade of a hand will serve him in prison.
Just in case I forget.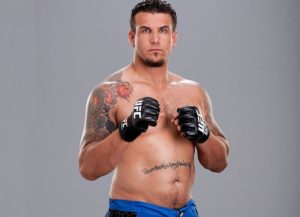 Bad placement is one thing, but bad design is another. How difficult is it to remember the surname Mir anyway that Frank Mir decided to get it inked, terribly for a fact, on his bicep?
Forget me not.
Joining the bandwagon of forgetting names is Cris Santos, who thought that it'd be an excellent idea to have her forearm draped with the words "Cris Cyborg." Well, at least it's a lot fancier compared to Mir's.
What's in a nickname?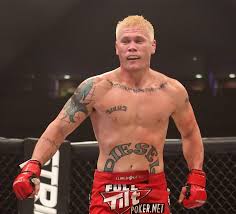 Poor choice of text style? – Check! Poor choice of color? – Check! Poor choice of design? – Check! Exaggeratedly huge? – Check! I guess Joe Riggs pretty much has everything covered when it comes to awful tattoos.
Rock a bye-bye baby.
Would you trust the Grim Reaper with your child – or any child for that matter? Apparently, Aleksander Emelianenko would. He actually chose to have a huge back piece dedicated to his child. Sweet? Sure! But why is the child is being cradled by Death himself?!
Self-love.
As they say, all publicity is good publicity. This might be what Wanderlei Silva was thinking when he got his Wand Fight Team logo tattooed on his shoulder.
The "J" is silent.
Kimo Leopoldo has several spiritual images inked on his body. Too bad his love for Hawaii literally overtook his love for Jesus.
Makin' money.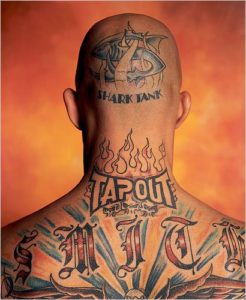 Hopefully, Shad Smith's getting a few pennies here and there for skin advertising; 'nuff said.
Capitalization is key.
Rampage Jackson or his artist should've really thought this through. That's unless the piece is actually referring to someone stoned.
Bulls be ballin'.
Pit bulls and a pit bull on currency – Paulo Filho knows something we don't.
The Tyson fan.
Another Paulo Filho piece makes the list; this time a Mike Tyson-inspired face tattoo.
Immortalized.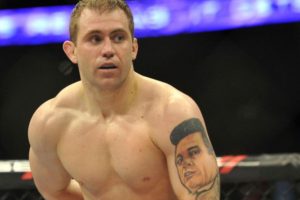 First, if you plan on getting your idol's face on your body, make sure that it looks like him or her. Take notes, Alan Belcher.
The chokehold.
Brock Lesnar got a dagger to the throat for his stint at the WWE. Sadly, it looks like something else has him in a chokehold.
Just stop.
When blue flames don't cut it, have "King of the Cage" tattooed on your forehead; Adrian Perez did.
Seen worse? What's the worst MMA tattoo in your book?