William 'Bill' Louis Wallace was born in Portland, Indiana, in the year 1945 and from early years, he showed promise to grow as a professional martial artist. By the time he was an adult, he was indeed that man he set out to be. Not only was he a Professional Karate Association world full-contact karate champion, but he was also the Professional Karate Association Middleweight Champion kick boxer for almost six years running. Just check out this old footage to see how awesome he was.
To many, he was a hero, but for most of us, his life was a bit of a blur so we have brought to you seven secrets about Bill Wallace that you may not have heard before.
We all know that Bill Wallace was nicknamed 'Superfoot' in his later years thanks to his skills at kickboxing, but in his early days he was referred to as 'Bad Billy' by his point-fighting opponents.
Wallace is still alive (aged 72) and he is an active Screen Actors Guild cardholder. Although he is not currently looking for work, he has stumbled into a few jobs which now earn him royalty checks of around 20 cents now and again. Every little helps as they say!
Wallace is now a shodan in Judo after Sam Allred tested and promoted him in 1971. Before that, he was a simple brown belt owner.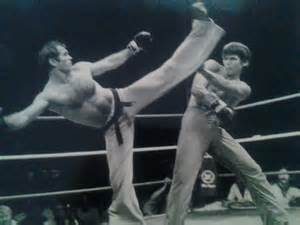 He spend some time training and competing in Kata, but he never did too well thanks to a leg injury preventing him from perfecting certain stances and kicks.
For some reason, Wallace loved to spar with random martial artists who attended his seminars. He was famed for this, so people would come from far and wide to say they have spared with Superfoot himself. However, this move also attracted a number of crazies, but nothing he couldn't handle. In 1983 he was forced to knock out three people who were arrogantly trying to beat him to a pulp (but totally failed). After that his lawyers advised him to stop the practice
Wallace was not only the guy who found the body of John Belushi after he died from and overdose in 198, but was also the man who taught him martial arts. Wallace and Belushi went well back as master and student and as friends. To this day, reporters love visiting the hotel when it happened, the Chateau Marmont Hotel in LA, to do feature reports and share the gory details over and over again.
Wallace was a traditionalist, once quoted saying "'karate' means 'empty hand' so why would i use a weapon?" So despite being a champion in his field, he was an old school fighter – showing all that old rules can sometimes still be the best rules. Although he did learn the five pinan kata, the three naihanchi   kata, the saisan and the ananku, he was always irked by the modern traditions and weapon fighting like kobudo.