Some of you may know this legend as Saenchai Kingstar, while others may have seen his more ridiculous (possibly sponsored) name, Saenchai PKSaenchaiMuayThaiGym. But however you know him, he happens to be one of the greatest Muay Thai legends of all time.
But you knew that already. Entertaining thousands upon thousands of new fans, and influencing just as many keen martial artists hitting the gyms, his unique fighting style and superhuman-like agility and power amazes us all. Aged just 35, this man has quickly climbed the ranks to become one of Muay Thai's greatest legends. Here's why…
He is a master in the ring
Saenchai displays exactly what legends of the ring need to, an incredible ability to outsmart thier opponents with their intellect. For us, Saenchai is arguably one of the greatest tacticians to ever get into Muay Thai, and he soon found fame thanks to his incredible ability to dodge punches and retaliate with surgical precision. His technique is so unique that his opponents are often left stunned and unable to defend against his innovative strikes.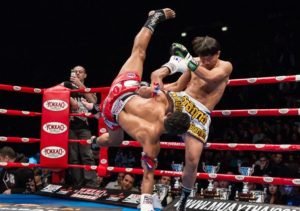 He is super active
Unlike those famous UFC fighters who step into the ring once every year or more, Saenchai actually takes his martial art seriously – fighting at least two times a month on average. Thanks to his incredible power and defense, he usually leaves the ring undamaged, almost as if it was just a spar in the gym. The fact that his opponents are often elite fighters too makes this even more impressive.
He has beaten the best of the best
Quite simply, Saenchai has beaten every single person there is to beat in the world of Muay Thai and kickboxing. Don't believe us? Then go and check the scoreboards at the Lumpini Stadium. Every title holder in and around his division has lost to the skillful hands and elbows of this warrior, including the legendary Singdam Kiatmuuu, Orono Wor Petchpun, Petchboonchu FA Group, Sagetdao Petpayathai, and Attachai Por Samranchai.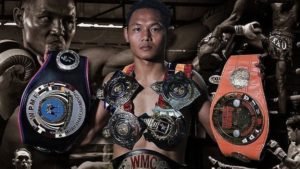 His scores prove he is amazing
Saenchai has won a whopping 284 fights out of a total of 338 – numbers that are unheard of in pretty much every martial arts divisions today. He is a multiple Lumpini Muay Thai World Champion in four different weight divisions and has won the Toyota Cup Tournament and Marathon Championship, WMC World Championship and the WBC Diamond World Championship. In fact, He has also stayed at the top of his division for 10 whole years now and has also received the prestigious Sports Writers of Thailand's Fighter of the Year award, twice. Damn.

His influence covers the globe
No doubt that Saenchai's fame has brought him world recognition far beyond his home country of Thailand. Today, he holds seminars across the globe with huge turnouts and he has even reached the realm of MMA, with many fighters looking to him for inspiration and fighting techniques. According to some, Alan Jouban's cartwheel kick that knocked out Matt Dwyer in UFC Fight Night 71 was one of Sanechai's own moves. In his post fight interview, Jouban paid tribute to the Muay Thai legend, admitting that he had practiced the kick after seeing Saenchai use it in his fights before.
So, despite the ancient history that surrounds Muay Thai and a long list of legendary fighters out there today, Saenchai is clearly one step above the rest given his incredible record. What makes him even more special is that his fighting style is not just about technique, but also about the show. And if you still don't believe us, just check out this video: