When learning about how few people had heard about Benny 'The Jet' Urqidez, we just had to write an article to get you guys up to speed. This once great champion is unknown to many but for those who do know him, he may go down as one of the greatest fights they have even known.
Benny The Jet was one of the most explosive American kickboxers of all time. Still alive today, aged 65, he has retired the ring and is focusing on choreography in his older age, but during his prime, The Jet blew all other competition out of the water.
During his professional career from 1974 and 1993, Benny The Jet documented an incredible record of 49-1-1- (win-loss-draw) with an amazing 35 knockouts and two no-contests. His first martial art was non-contact karate before he moved onto full-contact karate, kickboxing and a range of other schools during his career. His only loss came in a Muay Thai match which was controversial at the time.
After winning five World Championships in four separate weight divisions, Benny The Jet retired in 1989, only to return to the ring in 1993 for one final professional match to seal his legendary status. At age 42, it was an incredible feat, defeating the 25-year-old reigning champion from Japan.
Just so you're aware, this feat has never been seen before, or since to this day.
In fact, Benny The Jet remained undefeated for 27 years, becoming the longest reigning World Champion…EVER!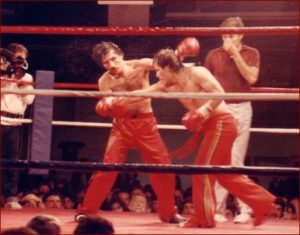 With a history like that, nobody can argue that Benny The Jet is one of the greatest fighter in the history of American Martial Arts, and we just had to share him with you today.
Check out this tribute video made for The Jet – documenting some of his best fights from history.