When will people learn? Stop trying to make UFC fighters your victims. First, we had the idiot mugger who got his ass handed to him, including some hospital and jail time, when he tried to mug Brazilian UFC fighter Polyana Viana, and now we have another fool who decided to steal New Zealand UFC fighter Dan Hooker's wallet. 
On Saturday night in Auckland, the wallet went missing having been stolen from Dan's truck. The UFC fighter, known as 'The Hangman' was able to retrieve CCTV footage showing the criminal in a nearby laundromat, taking coins and a credit card from the wallet.
Hooker took some photos of the footage which showed the man's distinctive tattoos and shared them on his social media in the hopes that someone would be able to identify him: "AUCKLAND SHARE! This low life stole my wallet from my truck Saturday night. Genius then used my card to withdraw coins (just after midnight at wash world in Greenlane). He has some very distinctive tattoos on his right arm (swipe right). I would like to have a word with this man. Cash reward for whoever gets me his name."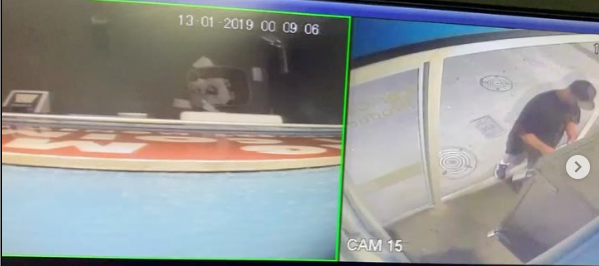 Although it might seem like a stretch that anyone would recognize the guy from this photo, he was in luck when one fan replied on Instagram "That guy went to school with me." Dan responding with "What school was it?".
This is where it takes an unusual turn. UFC fighters often don't have a great reputation for composing themselves when faced with confrontation and in some parallel universe Dan would have found out where the thief lived and went straight over, firing on all cylinders and delivered maybe one too many blows.
Instead, this was his response to the situation: He offered the offender free membership to a Martial Arts gym so that the guy could learn some of the lessons and values that he clearly takes to heart and uses on a daily basis.
"I'm going to turn the other cheek and give him a free membership to my gym. Martial Arts will teach him self respect and discipline so he doesn't go around stealing from other hardworking Kiwis. I just need to track him down to extend the olive branch."

This is a man who understands so clearly the message we try to drum home here at Martial Tribes with our #STANDSTRONG and that is this: Martial Arts is not only about Self-defense and physical fitness. It is about learning and respecting a long-standing code of conduct, which emphasizes the values of Integrity, Respect, Positivity, Courage and Self-Discipline.
Hats off to you for being such a fantastic role model Dan. You have definitely gained a few new supporters with this gesture and we can only hope that the thief in question uses this opportunity to become a little less like himself and a lot more like you!