There is something so satisfying about Andy Williams slow, gentle 'The Impossible Dream' being the soundtrack to highspeed motorbike decapitations. John Wick: Chapter 3 – Parabellum is on its way and the first trailer is a sight to behold. 
We are not pro-violence here at Martial Tribes, but there is just something in the way that these scenes are choreographed, that even a guy getting his teeth smashed in with a library book is framed and orchestrated so beautifully that you almost forget someone just got their teeth smashed in with a damn library book.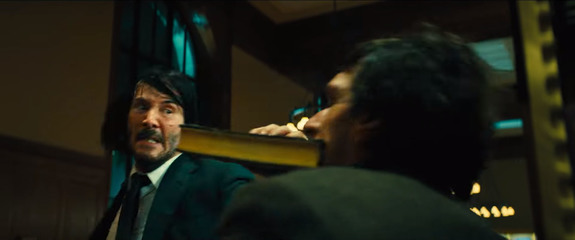 Sure, we love John Wick, but plenty of people in this film seem hellbent on aiming flying daggers at his crotch. While this is less than convenient for him, it suits us down to the ground, because less face it, no one is killing John Wick anytime soon, and regardless as to how creative his enemies get, they are dealing with a guy who could end your life using nothing but a pack of Betty Crocker Chocolate Cupcake Mix, or any old thing you would find laying around the house.

Having been excommunicated from The Continental and with an enormous bounty on his head, many who may have had his back before are gone. But who needs 'em when you got Hally Berry and a pile of dogs on your side? Apparently, Angelica Houston's character disagrees when she says "There's no escape for you!", but we'll be only too happy for him to prove her wrong.
To quote the film, 'John Wick, excommunicado in effect in 3,2,1″, "And away we go!", then utter technicolor chaos ensues, and we love every single second of it!
All we need to do now is rewatch parts 1 and 2 in preparation for its release in theaters on May 17, 2019.