Shaolin Monks are no strangers to the stage – their 'mecca' is Dengfeng, a city that is one of the major go-to tourist destinations in China. Their lives that are surrounded in intrigue and mystery appear to be tranquil, with monks engaged in quiet contemplation every waking moment…unless they are practicing for a fight.

From quiet mediation erupts a flurry of shouty martial arts, with each monk moving and sounding like a balding Maria Sharapova. In their home city, shows are performed daily, so these specialized Shaolin monks somehow magically juggled training, practice, meditation, contemplating, prayer, eating and sleeping all into one day while simultaneously being managed by both the temple abbots and their performance agent, the Shaolin Intangible Assets Management Co. Ltd.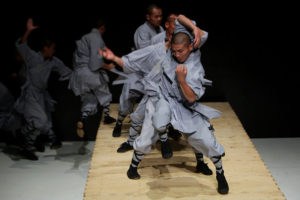 One of these shows is Sutra, an incredible display of martial arts, dance, and acrobatics that incorporates sticks, boxes, and other props. Devised by Belgo-Moroccan dance-maker Sidi Larbi Cherkaoui and paired with props designed by award-winning sculptor Antony Gormley, this dance may come from western minds but is purely Asian in presentation.
Cherkaoui's choreography is a thing of beauty, incorporating the wild skills of the Shaolin monks with the sounds and textures of falling wooden boxes to add depth, bass and a sense of war to the proceedings. The frenzy of monks at times looks totally disorganized and unplanned until they all seem to independently synchronize with each other at exactly the same time with skills that would put the perfectly timed marching troops of North Korea to shame.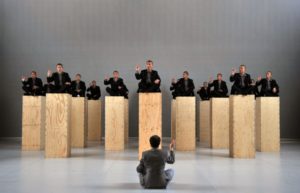 Sutra has toured the world, from Macao to Montreal, with extremely good reception throughout. It's almost like a ballet of martial arts, with around 20 monks prancing, dancing, flipping, spinning and twisting their way across the stage. The wooden boxes designed by Gormley are embellished with a silver-grey sheen on one side and are manhandled, twisted and piled up in all sorts of formations. In the 20-strong team, there is only one dancer who is not a Shaolin monk, but just a layperson – dancer Ali Thabat.
Thabat takes the role of an unskilled westerner, looking on from his own box trying to learn the moves but failing – until the end when East meets West in a beautiful crescendo of swirling fabric, angular boxes, and incredible martial arts.