Jim Kelly was born on May 5, 1946 in Paris, Kentucky. Although growing up as a kid in his home town, it was not until his family moved to San Diego where he started to show an uncanny athletic ability in high school. Football, basketball, track, and field – he was amazing at them all.
By the time he was starting at University, he was voted the most inspirational junior high athlete in the entire city of San Diego, and he began to study martial arts. After moving to Lexington, he began to train under the acclaimed Shorin-Ryu Karate instructor, Parker Sheldon. And although people like to question lineage today, it was through that lineage that cemented his star status in years to come.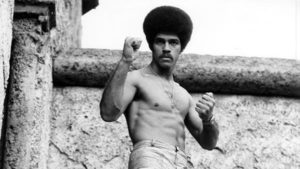 In no time at all, Kelly proved he was an excellent fighter by winning the 1971 International Middleweight Karate Championship. After realizing his true ability, Kelly went on to open his own karate studio. After his fame grew, more and more were training under him and even the movie world was looking towards him for starring roles.
Although starting off with a small role in Melinda in 1972, he was soon headhunted by Warner Brothers to star in one of the biggest martial arts film in cinematic history. Kelly joined the cast list along Bruce Lee in a role that brought him his true star status. The movie? Enter the Dragon.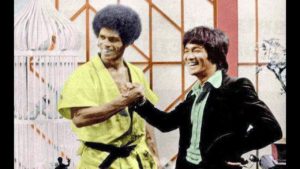 His name was becoming household and soon the list of movies he was performing in grew and grew. From The Black Samurai to Hot Potato and Death Dimension. Although his life on the big screen was short-lived (as was many action heroes of that era), Kelly retired to pursue a successful career in professional tennis…because why not?!
Regardless of what he practiced at the time, people loved Kelly and often said that he put the art in martial arts. His fan base included everyone from football great Marcus Allen to Olympian Lee Haney. Even Quentin Tarantino was a fan, and once said that he was an inspiration.

What is clear is that Kelly was an incredible all-rounder. Overcoming racial discrimination and Blaxploitation, he rose to fame alongside Asian counterparts who shared his passion for martial arts and sports in general. Kelly also started developing his own style of hybrid fighting that incorporated karate, boxing and Brazilian grappling techniques after spending time with the Gracie family.
Despite never returning to the screen, Kelly was still considered as one of the best 'ass kickers' in the history of cinema up until his death, aged 67. Not long before he died, he was asked if he worries about defeat. Kelly simply responded; "When it comes, I won't even notice. I'll be too busy looking good." And he was.