Deontay Wilder has accepted Anthony Joshua's challenge for the undisputed heavyweight title after Joshua's win over Parker last week.
This is big.
Only a few days ago, we reported that in the ring after defeating Joseph Parker, Joshua taunted that he wanted to fight Wilder and challenge him for his title.
Currently Parker holds three of the four most important heavyweight titles, and if he can beat Wilder in the ring – he will be the first undisputed heavyweight champion since 2003.
According to Wilder's co-manager Shelly Finkel, his team are ready to begin negotiations immediately. Deontay wants this fight, it's obvious, but who will win the title? Both have an undefeated record, and both have knocked out all but one opponent, so statistically they are equal. In the ring however, their strengths and weaknesses will be shown.
A unification fight between Wilder and Joshua would take priority, according to both teams who are willing to push back mandatory fights to give priority to this epic fight.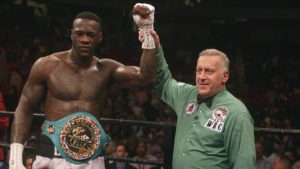 There is nothing that will stop this fight going ahead, so hold onto your seats guys, because this year we could see the first ever Briton hold all four major heavyweight belts…