Most people who follow UFC know of Joe Rogan, and despite his role as colour commentator and also part-time comedian, we all know he packs a punch. Taking up martial arts as just a teen, this man is at the peak of his performance winning fight after fight when in the ring in years gone by.
With a history in taekwondo and kickboxing, he has won many fights, winning the US Open Championship at just 19 years old and finally retiring with a 2-1 record in Kickboxing.
Although out of the ring these days, he is still as powerful as ever – and it's freaking people out.
Despite his last official fight happening over 30 years ago, Rogan still holds one of the world's most powerful punches if the Power Kube machine is to be believed.
A video has emerged of Rogan just laying into this Power Kube, a machine that measures the power of a boxer or martial arts fighter as they land a series of attacks.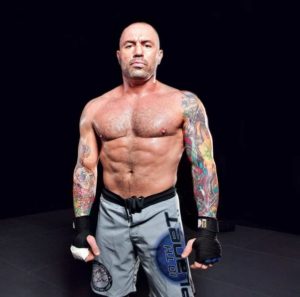 Although UFC heavyweight Francis Ngannou holds the wold record for punching power, Rogan takes to the Power Kube and lands among the top most powerful attacks in the world – not bad for someone who's retired for over 30 years!
UFC president Dana White once described Ngannou's punch as like being hit by a car. "His punch is the equivalent of 96 horsepower, or a 12-pound sledgehammer being swung from overhead," he said, which is just insane.
However, for Rogan, his power is in the kick, beating Ngannou's punch power by quite a margin. It's no surprise then that Rogan is often sought out by a number of world-class athletes, such as Georges St-Pierre, looking for training. St-Pierre is now argued to be the greatest fighter to ever grace the UFC Octagon, winning both welterweight and middleweight championships!
Check out the video below to see just how powerful Rogan's attacks on the Power Kube are, despite him wearing jeans and a t-shirt! I bet you'd not want to be in the path of those devastating kicks.