In another display of power, undefeated Anthony Joshua won himself a unanimous victory in todays Cardiff fight, despite a long, uneventful 12 rounds hampered by an over eager referee.
 The 12-round fight between Joshua and Joseph Parker broke an indoor record for boxing with over 78,000 fans watching from the Principality Stadium in Cardiff, Wales. However, viewers and judges were left bored as gagging for more as the fight continued but the impressive hits failed to be played.
 Without any exciting moments except for a few seconds in the sixth round where the pair battled it out along the ropes with some very well placed power shots, the fight appeared reasonably close. That was until the score came through, with judges unanimously declaring Joshua, a WBA and IBF champion, the clear winner of yesterday's fight.
 Despite Parker being quicker overall, 28 year old Joshua landed the better shots, keeping a distance that complemented his reach over his opponent. According to CompuBox, he placed 139 shots compared to Parkers 101.
 Joshua told CBS Sports that his strategy was to "stick behind the jab." Staying focused won Joshua the title, attributing his success to an old saying that goes; "the right hand can take you around the block but a good jab will take you around the world."
 (link CBS Sports : https://www.cbssports.com/boxing/news/joshua-vs-parker-fight-results-highlights-anthony-joshua-adds-another-belt-to-his-collection-with-win/)
 Sadly for viewers, the fight was overwhelmingly uneventful, partly due to both fighters taking a over-cautious stance, along with referee Giuseppe Quartarone constantly coming between the pair any time the fight became exciting.
 In good sportsmanship however, Parker refused to blame his loss on the referee or the judges, accepting that he was beaten by his rival which he described as 'a bigger man'.
 After Joshua's win, the floor came alive with murmurs about whether the winner today would take on Deontay Wilder for the WBC heavyweight champion status. Undefeated, Wilder has a record of 40-0 with a whopping 39 KOs – not a man to be messed with lightly.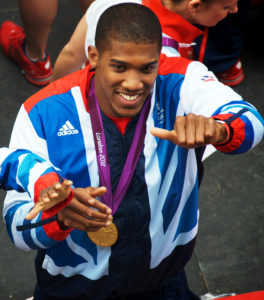 Thankfully for us, Joshua declared that he would fight the undefeated champion 100%, perhaps offering up a fight that will not only take him to glory (if he wins…) but also give us viewers something worth watching.
 Either fuelled with adrenaline or just pure craziness, Joshua shouted into the microphone after the match that he would take on both Wilder or Tyson Fury, bellowing "What would I have to do to beat Wilder? Get him in the ring and I'll knock him out."
 We're all waiting Joshua, you better make it happen soon, because we're all getting bored of mediocre fights.
 Check out the video review by CBS Sport below.