Karate Combat kicked off this week with six fights in an outdoor pit as a new Karate upstart takes hold of the martial arts world, with only positive reviews. Debuting in Miami, this new competitive reworked Karate has reminded those who may not enjoy classic Karate that the martial art can be exciting, and some are even suggesting that it is a new contender for UFC.
Karate Combat: Inception was the appropriately named restart of competitive, full contact, boxing like karate – with fighters adorning the classic Karate slacks but bare chested and armed with boxing gloves.
This should be the Olympic Karate ruleset #KarateCombat pic.twitter.com/WfCxDRdRDC

— caposa (@Grabaka_Hitman) April 27, 2018
The first day brought in nothing but positive comments, with people suggesting that the hybrid style of fighting is perfect in terms of entertainment and showcasing professional fighting skills. Originally, no hooking punches were allowed, but after a trial run in Budapest, Hungary earlier this year, the creators changed their stance on the punch, admitting that it proved to be difficult for combatants to not let in such a hit when the opportunity presented itself.
The fights, that took place in a pit rather than a ring, were entertaining and four of the six fights on the first day finished due to strikes, rather than a judge's decision. This is ideal for a spectator martial art where people watching want to see real fights, with clear cut results.
One fight ended in just 42 seconds after a well executed attack by Dionicio Gustavo, knocking out Alexandre Bouderbane in the first round. MMA veteran Josh Quayhagen also competed in the event, but was knocked out by Abdalla Ibrahim in just 56 seconds. Josh and others involved in the new Karate Combat event all agreed that this new form of combat is perfect for MMA fighters with a background in Karate.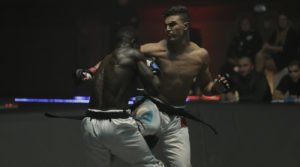 This was the first professional league to display biometric information of the competitors, along with nutrition, training and DNA-based data. During the fight, the heart rate was displayed in real time thanks to a device found in the gloves. The whole 'modern technology' theme was apparent every step of the way, with Rolls-Royce bringing in the fighters into the pit.
The first event's crowd was an invited crowd, but soon Karate Combat will go public once it has doubled down on it's place in the martial arts world. So far there are only positive reviews and even long lasting fighters in the UFC are already considering a conversion to the new sport.
Karate Combat is certainly a new contender for the UFC, with it's fast paced, full contact style karate that is already attracting hundreds and thousands of dollars from sponsors and fans eager to get a seat pit-side as soon as possible.
Check out the live stream of the first day to get a taste for the new pit-fighting karate inception. Can't we all agree that Karate Combat looks awesome?!