A karate 'expert' on the Sri Lankan version of Got Talent (Sri Lanka's got Talent) knocked himself out just seconds into his stage performance that will be remembered in history as one of the most ridiculous attempts at karate ever seen.
Sudarshana Deshapriya took to the stage with a few assistants and began breaking tiles and wooden blocks that were swung towards his arms. Sat on a plank of wood, he performs the splits before trying to smash a pile of ceramic tiles on his head.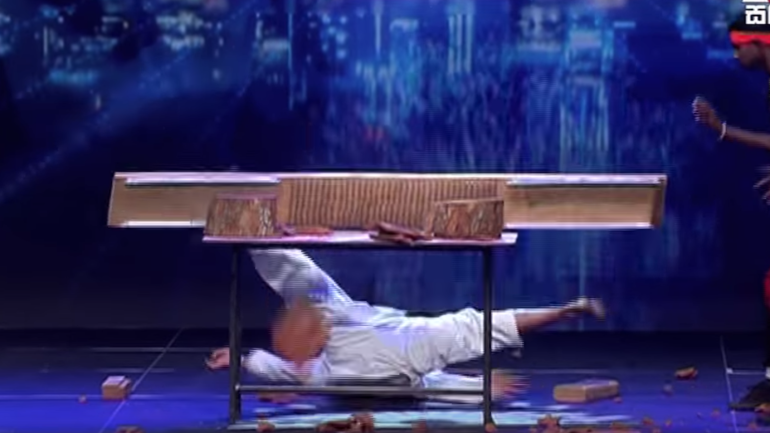 With one foul swoop, he hits his head before falling backward off the plank onto the floor, knocking himself out cold.
In his defense, after his assistants help him up, he continues with the act, obviously still dazed by the failed head smashing attempt, but determined to stand tall and continue with the act. So major respect for that.
The clip has already turned into a meme, with GIFs and other parodies already sprouting up online.
After getting up and trying to finish his routine, the judges slam their buzzers and try to put an end to this terrible act. Deshapriya stood there, with his assistants holding him up, looking very sorry for himself.
In all fairness to the man, at least he had the guts to keep going…much like myself after one too many beers.
In a surprising but admirable turn, the judges did not tease the man (much) but offered him advice and assistance with one woman saying "I applaud the fact that you got back up…my verdict is 'yes' but please be careful."
Another judge who also said 'yes' to Deshapriya ran up to the stage to give the man a hug while telling him to sort out his surroundings and his act for the next round.
The moral of the story is that even if you are terrible at what you do, keep going and you still may be awarded for it! Well don't Deshapriya, you have the talent of an oyster but maybe next round we'll find a pearl!