[siteorigin_widget class="WP_Widget_Media_Video"][/siteorigin_widget]
Most of us continue to be fascinated by the concept of the ninja – from their stealthy tactics to their jaw-dropping speed and target precision. But what really captures our interest is the ninja's fantastic array of weapons and gadgets.
An exhibition of ninja throwing star skill can easily astound audiences, but wait and see how people react to a kyoketsu-shoge demonstration; chances are, they won't believe their eyes.
The kyoketsu-shoge is a double-edged, bladed weapon used by ninjas during the Edo period. Back in the day, supplies were limited, and so ninjas had to make use of whatever was available at home or where they worked.
Keep in mind that most ninjas at that time belonged to the peasant class. Agriculture was the primary form of livelihood for most of them, so the kyoketsu-shoge was crafted out of a tool that farmers commonly used. When translated, kyoketsu-shoge means "to run about in the fields and mountains," literally representing what farm work was all about.
It started with a standard straight-edged knife, with a curved blade welded onto the hilt at one side. The newly-created double-edged blade was then attached to a metal ring using hair, rope, or chain. The ring was light but solid and served as the handle. As for the rope, it could extend anywhere from 12 to 18 feet. For more experienced ninjas, longer connectors were used to extend the weapon's reach.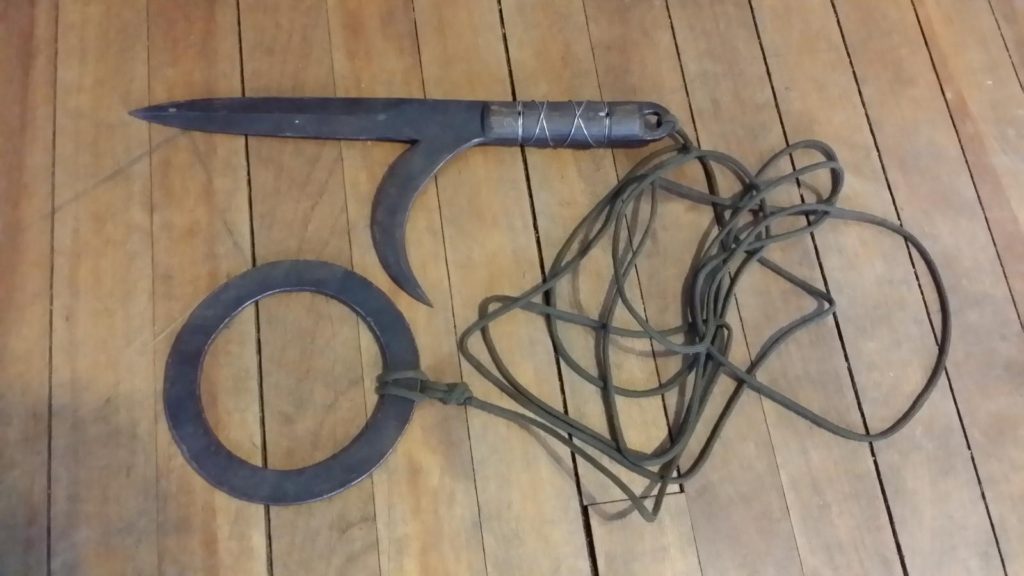 Just picturing how the kyoketsu-shoge looks is intimidating enough. Seeing it in action is something else entirely! The beauty of this weapon is that it can easily be concealed, yet allows for short or long-range assault. It's said that this served as the inspiration for the modern-day sickle.
With their sturdy grip, ninjas were able to use the kyoketsu-shoge for climbing in a fashion that's similar to modern-day climbing axes. Famously used for striking, these weapons could also allow ninjas to entangle enemies when necessary.
Unlike other weapons available at that time, the kyoketsu-shoge let ninjas fight their enemies at a safe distance – one that would not open doors for easy counterattacks. But there was also an opportunity for users to go at it old-school and simply use the double-edged blade for a good old stabbing. It is said to have originally come about when a resourceful warrior, while in battle, combined the end of a broken spear with the rope ninjas carried for gaining access to forbidden areas.
Ever seen a kyoketsu-shoge? Do you think you have what it takes to handle one?
Here's one in action.