A generous salary of £75,000 has been put up alongside an add in the UK for a businessman who seeks a personal assistant who not only must be well trained in self defence or martial arts, but also be able to cut up their boss' meals before serving them to him.
This bizarre ad appeared on job site Staff Heroes (https://www.staffheroes.co.uk/employee/temp-jobs/personal-assistant-immediate-start/), listing a number of PA roles such as dry cleaning, grocery shopping, diary organisation, as well as being on call 24/7, work 6 days a week and are physically fit and able.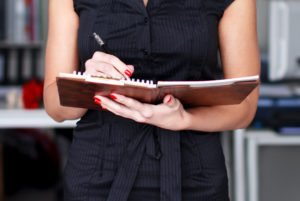 Sounds like some kung fu version of Fifty Shades of Grey.
The perks of the job include trips to luxury destinations, as well as the chance to drive one of many luxury cars owned by the anonymous businessman. The candidates must have over 10 years experience and be comfortable with flying, as the add suggests that they may be "in the Caribbean at the beginning of the week, London for a few days and New York the following week."
One of the more stranger parts of the job role is to cut up the businessman's dinner for him before serving, except when they are eating out…thank god! That would be just too embarrassing.
It is not clear why the candidate must also be skilled in defence or martial arts, perhaps the businessman has a fear of knives so their dinner must be chopped by hand with kung ku precision. Classes will be paid for if the candidate is the right fit but a bit ropy on the old Brazilian Jiu-jitsu.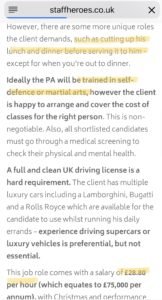 If you happen to be in the UK, or want a change of scene, and you think you have what it takes, why not apply? At £28.80 per hour ($40.87 per hour), it can't be denied that the job pays well. However, you have your work cut out to get into the shortlist, as there have been over 120 inquiries already!