Conor McGregor has yet to release a statement following his violent attack on a bus and fellow UFC fighters last week at the Barclays Centre that landed him in cuffs.
The incident that took place last Thursday was caught on multiple cameras and share widely on social media. McGregor was seen throwing a sack-truck into a bus window full of fights after a heated press conference. One passenger suffered minor injuries following the violent outbreak and a UFC executive who was on the bus described the incident as "the scariest thing he had ever experienced."
The case was clear cut, and the same day McGregor was arrested by police in connection with violent assault. According to people on the ground, it was an anger fueled response after McGregor and his friend Artem Lobov had a run-in with Khabib Nurmagomedov.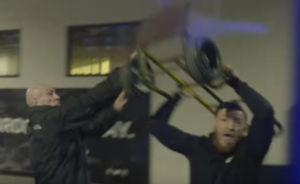 Following the incident, McGregor's manager Audie Attar shared a small statement defending the fighter and attacking the spread of misinformation regarding the case.
"So much rumor and misinformation about my client, Conor McGregor. The matter is in the hands of law enforcement and I cannot really say more," they said. "Conor is a great father, a fiercely loyal friend, and one of the best athletes in the world. He looks forward to getting back to fighting as soon as possible."
The irony in the choice of words maybe lost on McGregor's manager here…if anything he needs to be doing less fighting if it turns out like this!
Fans and those at the scene have raise concerns about the statement, suggesting that there has been no misinformation spread. As far as they are concerned, McGregor's actions are clear as day, the injuries sustained by people in his wake are real, as is the run-in with Nurmagomedov.
Joe Rogan said that McGregor's outburst was crazy. He added that "it's pathetic, it's disgusting. I hate it. I hate that it happened. And I hate that it happened, caused by a guy I love. I'm a giant Conor McGregor fan, and to see him step out this badly just really, really upsets me."
Felice Herrig captured part of the ruckus caused behind the scenes when Conor McGregor and his team arrived. This is from her Instagram account pic.twitter.com/9R6T2eNNTs

— Damon Martin (@DamonMartin) April 5, 2018
Following the incident, McGregor spent the night in a Brooklyn police precinct after he turned himself in. On Friday, McGregor was arraigned on charges of assault and criminal mischief. He was released on $50,000 bail.
For those who dislike McGregor already, seeing him in cuffs may bring a little smile.
UFC has yet to release a statement regarding the inevitable repercussions that McGregors actions will bring him, but according to some sport commentators, this incident will only see him step into the ring earlier than later.