The myth that board games are nerdy and not fun has finally been dismissed after a Street Fighter board game on Kickstarter raised over $350,000 dollars in just one day!
This new game pits six of the Street Fighter characters against each other, with expansion sets that add extra character and game modes. With support of Capcom, YouTuber Joe Vargas or "Angry Joe" is well on his way to reaching his $400,000 dollar target.
The game is already supported by Jasco games who have previously published other game titles such as Mega Man which also happens to be another Capcom IP.
But before you get excited and start searching online for a place to buy, we have to tell you up front that the game isn't cheap. The game itself is an extortionate $140 dollars, or $280 dollars if you want all the expansions included. For $80 dollars you can pick up the base game, but there is not much to play with so you will be searching for more.
Yet despite this price, be aware that there is currently no plan to bring the game to retail, but only make to order for those investing in the Kickstarter. These types of games are called Kickstarter-exclusive games and are becoming more and more common for those creating their first game, helping remove any losses that potentially could be made by selling retail.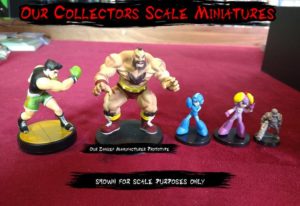 So, if the price or exclusivity has not put you off, you can check out some videos of Vargas showing off the game, and offering a tutorial for those keen to get their hands on a game themselves.
The video also shows prototypes of the figures currently in design. The figures are acutally pretty big, towering over other figurines made for similar games, however the overall design could changed significantly before being produced.
Get this game while it's hot, as in just under a month the Kickstarter will be closed and you will never have a chance again…or so they claim.