With all the news about Putin in the media today, we thought we'd show you another side to the Kemlin by sharing with you his favourite martial arts champion…and no surprised faces that she's a beautiful blond woman – we all predicted it, c'mon.
Although an injury has forced Vladimir Putin's favourite martial artist to retire, 28-year-old Diana Moric has become a social media sensation since the Kremlin leader's admission, and thanks to her very sexy fitness instruction channel.
https://www.instagram.com/diannafitness/?hl=en
WIth a following of over 145,000 people, of only a third of which are women – you come up with the theory there – this blonde bombshell of a fitness guru is a real talent.
Every day she posts videos of energetic workouts that people can follow along, while dreaming of one day having a figure like hers. WIth a history in both wrestling and judo (yes, judo!) she was a world champion at one point, but not in judo.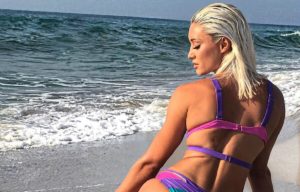 Sambo was the sport she became a champion in, the Russian martial art and combat sport, that obviously soon brought the attention of Putin himself.
Putin is in fact a major promoter of Sambo himself, so it would be hard for any beautiful sportswoman to miss his gaze. On the day she won the world championship, Putin personally awarded her the medal and congratulated her.
Putin is not shy about exercise, and often is seen topless lifting weights, punching bags or riding on the back of a horse.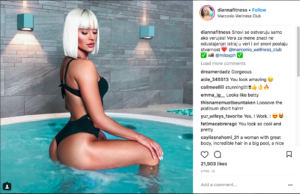 Although very flattered by the attention, and happy it is bringing in more and more followers a day, Moric has said she will continue to focus on her career as a fitness model and instructor and hopes to be an inspiration to the many thousands of followers she currently has. If tensions rise any further between the US and Russia, maybe she can step in an calm down Putin and put an end to anything…because another orange skinned buffoon may only make things worse.